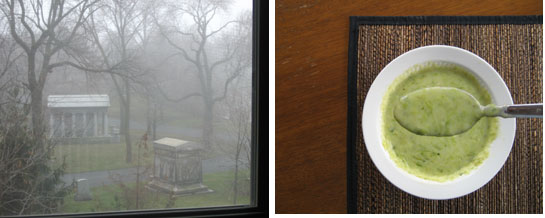 I like challenging my mind to think differently and like to play games where I translate sensory experiences as if they were different languages. "What music does that smell sound like?" Or, "What color is that song?" A few weeks ago, translating my new painting into a dinner party was such a fun challenge, I decided I would continue taking non-food visuals and transferring them into recipes.
This photograph was taken out my sunroom window on a foggy, Chicago morning. We live next  to historic Graceland Cemetery which is the final home of many famous Chicago notables including Marshall Field, Daniel Burnham and Louis Sullivan. In general, I love getting mileage out of dumb jokes so whenever people ask what I think about living next to a cemetery, I reply, "It's great. We have quiet, permanent neighbors." The truth is, I couldn't ask for a more beautiful landscape filled with notable architecture, plenty of trees and the aura of great history.
The Graceland Cemetery photo looks calm, stable, earthy, green and hazy. I translated it into a steaming bowl of cream of asparagus soup. If my photography skills were better, you would be able to see that my bowl was indeed steamy and piping hot!
This recipe is delicious and creamy but doesn't actually use any cream at all. (Which is better for my slightly expanding waistband.)

Cream of Asparagus Soup
4 cups chicken stock
1 bunch of asparagus
4 Tablespoons butter
1/4 cup spring onions, chopped
1/2 cup flour
1 cup milk
salt & pepper to taste
1/4 teaspoon nutmeg
Chop the asparagus and boil it in the chicken stock until tender. In a separate sauce pan, melt the butter. Add the onions and cook a few minutes. Stir in the flour to make a roux. Separate the chicken stock from the asparagus and slowly add it to the flour mixture whisking it together. Heat it for a few minutes so it begins to thicken. Add the asparagus back in and stir in the milk. Continue to stir for another minute or until hot. Use either an immersion blender in the pot or pour the soup in portions into a blender to pulse the soup until it is a desired consistency.