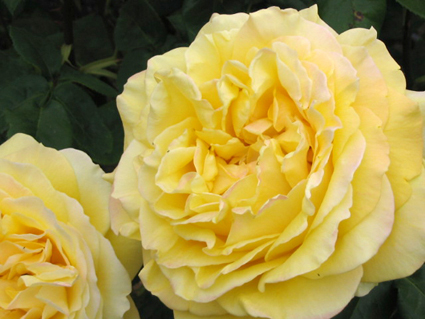 My favorite thing about all of the Earth Day media coverage is the tips and tricks offered so that each of us can make a positive difference without much effort. Some of the things are so easy, it is just a matter of developing a new habit. Below are a few of the things I do to reduce, reuse and recycle. Share your best green habits!
– I regularly employ cotton reusable tea bags or a metal tea infuser. Doing this allows you to mix your own tea blends too!
– Instead of pouring clean water in the sink (emptying a teapot, water from boiling eggs), I pour it into my watering can which I use to water all the house plants.
– We collect plastic newspaper bags from people in our condo association and give them a second use as dog waste bags.
– We have a number of canvas bags for shopping but LOVE our collapsable plastic crate for larger trips to the store. If you walk to the store, try one on rollers.
– We just learned how much electricity phone and computer chargers and stand-by mode on electronics use. Unplug them when they are not in use or plug them into a power strip you can turn off.
– I am very excited about the old Fuji bike with baskets my mom just gave me. My excuse for not riding my bike to the office was that I didn't have a way to carry all my stuff. I even got a milk crate that I attached on back for Nigel, my dog, who also comes to my office every day. He loves the wind in his hair even more than I do! Buy an old granny bike – less chance of getting stolen and often a more comfortable, upright ride!
-Finally, I do not have it yet in my small city apartment but I am looking into a worm compost. My mom met someone who lined a kitchen drawer and turned it into a worm compost! That would certainly shock guests searching for silverware.