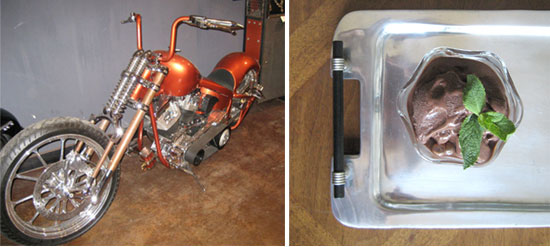 My favorite food/creative exercises this year have been taking inspiration from non-food objects whether art or photography and turning them into recipes. I hoped to do it more regularly but have found that it does not always come easy. Some weeks ago, moved by a gorgeous flowering tree, I invented a number of recipes but all were forced so I bagged it.
Last week, home late at night alone, I was feeling extra creative and open. In moments like those, my mind sees many pictures and colors and I am able to let go of the confines of everyday life and break the inertia of creative stagnancy. While surfing through my online photos, I came across this beautiful motorcycle and found myself on the open road with wind in my hair.
I met this guy, a friend of a friend, who makes custom bikes. He is an artist in every sense who puts color, beautiful lines and texture on wheels. Each part is specifically chosen and hand-applied – no two motorcycles are the same. The Criminal Customs workshop is truly an artist's studio.
This beautiful motorcycle is exciting, handmade, beautiful and expensive. It is time consuming to build and inspires dreams of cool wind in my hair. I am drawn to its beauty but a little afraid of its danger.
As I thought about transferring the bike to an inspired food, my first instinct was mint for its cool, refreshing qualities. My second thought was good quality chocolate for decadence and expense. And, to do it right, and pay true homage to Chris, I wanted something that would take a long time and could be made by hand.
I decided on homemade dark chocolate gelato infused with fresh mint. Once I settled on the idea, I searched a number of recipes online and chose a Sicilian Chocolate Gelato recipe from the Scharffen Berger website. I added a fresh mint infusion to the recipe and churned the chocolate gelato by hand in my tiny, non-electric ice cream maker. Although this recipe has no eggs, it is rich and satisfying. Be sure to use quality cocoa powder.
Take a spoon of the gelato and slide it into your mouth. Feel the smooth, cool ride. Relax into the deep, chocolate flavor. Sit back while the mint cools your breath and dream of the open road.
Dark Chocolate Mint Gelato
Adapted from a recipe by Alice Medrich which appeared in her award-winning book Bittersweet
3 cups whole milk
1/2 cup fresh mint leaves, coarsely chopped
2/3 cup granulated sugar
3/4 cup unsweetened cocoa powder
1 1/2 tablespoons cornstarch
Bring 2 cups of milk to a simmer. Add mint and simmer a few minutes. Then, turn off heat and let steep for 30 minutes. In another bowl, whisk remaining cup milk with sugar, cocoa powder and cornstarch.
Strain mint out of the warm milk and bring back to a simmer. Add the cocoa mixture slowly, whisking to incorporate. Cook until edges bubble and then a minute longer until mixture is slightly thickened.
Strain through a fine wire mesh strainer. Cover with plastic and let sit cool in the fridge overnight or put over a bowl of ice to cool.
Once cooled, freeze according to your ice cream maker's instructions. Garnish with fresh mint.