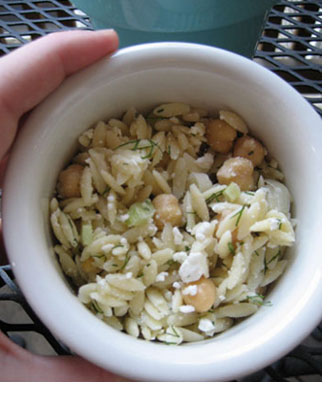 I am officially on a "standby summer salads" kick. This is another that I have made with frequency. I am so excited to be using fresh herbs with regularity!
I finally planted a number of my porch herb pots a few days ago only to have them trampled by an intense rain. I found one little fella out on the edge of the railing, completely exposed, roots washed clean from the downpour. The newly potted plant had not even enjoyed 24 hours in his new pot to secure his roots and had therefore, floated right on out when the torrential rains came. We are three floors up and yet the little foundling stayed on the 4 inch railing being pelted but did not plummet to his death three stories down. That little guy is a fighter and after gently tucking him back in his dirt, I named him Rocky.
Orzo Salad with Chickpeas, Dill & Lemon
1 cup uncooked orzo
1/2 cup thinly sliced green onions
1/2 cup crumbled feta
1/4 cup chopped fresh dill
1 19-oz. can chickpeas, drained and rinsed
3 T fresh lemon juice
1.5 T olive oil
1 T cold water
1/2 t salt
1 clove crushed garlic
Cook pasta according to package and rinse with cold water and drain. Combine pasta, onions, cheese, dill and chickpeas in a large bowl, tossing gently to combine. Combine juice and remaining ingredients in a small bowl, stirring with a whisk. Drizzle over pasta mixture, toss gently to coat. Yields 4 servings.
From Cooking Light
PRINT RECIPE