One of my favorite things to do while traveling abroad is to visit a common grocery store. I could spend hours wandering the aisles inspecting the food selection, looking at packaging, observing how the store is organized and watching people shop.
This will be the last of the posts about my Netherlands vacation since after this, my camera ran out of batteries. And, I am just now back in the States, anticipating fall and excited to start cooking again!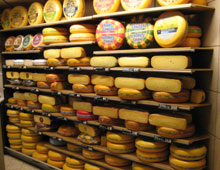 Dutch Cheese
This is the most obvious place to start. Your tour is through an Albert Hein grocery store. Like everything in the Netherlands and much of Europe, the store is much smaller than your typical American store. However, there is no shortage of room for the cheese display. No matter how many times I have visited this store, I am drawn to this wall of cheese like a bug to a bright blue zapper. Standing in front of these rounds of heaven, salivating profusely, I am dazed and in awe. In the states, Dutch cheeses are always categorized by region (Edam, Gouda, etc.). However, the stores I have been to in the Netherlands sell cheese by age from young creamy cheese to middle age to sharp older cheese. Also common are cheeses with various spices mixed in such as cumin seed or mustard seed. This year, we were able to stash a few large wedges in our suitcase to enjoy at home. Now I will have to start the perfectly timed process of savoring the cheese to make it last while not letting it mold. You can read more about Dutch cheese markets here.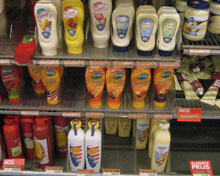 Condiments
One of the most fun aisles to inspect is the condiment and spice section. As you learn to cook international foods, you start to learn what the common spices are in the cuisine. As far as Dutch food goes, much of it is not heavily flavored. But, one condiment they are serious about it is the frites saus. If you have seen Pulp Fiction, you heard the banter about mayonnaise on French Fries. Well, it is true that the main condiment for fried potatoes is much more like mayonnaise than ketchup. I wouldn't describe it exactly the same as mayo but I can't say what is different either. Snack shops throughout the country sell French fries with frites saus on the top or on the side. My favorite are those served in a paper cone, hot and salted with a dollop of frites saus and a mini fork for eating.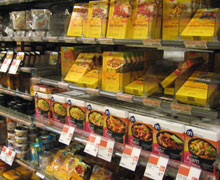 Indonesian Food
Indonesia was a Dutch colony for hundreds of years until becoming independent 1942. (read more about the history here) The relationship of the two cultures in evident through the prevalence of Indonesian cuisine in the Netherlands. During our visits, we often enjoy an evening at an Indonesia restaurant while in the Netherlands. This section of the grocery aisles contains delicious spice mixes for meats, vegetables and rice dishes. It is an interesting juxtaposition to the less flavorful, less spicy traditional Dutch dishes.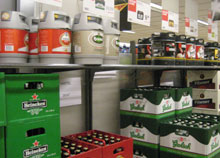 Beer
Last but certainly not least, how could I not discuss the beer! Most famous for the lagers such as Heineken and Grolsch, the Netherlands is the world's fourth largest beer producer. Take a look at these cute little kegs lining the top shelves. And, the bottled beer comes in large plastic crates – forget six packs! Another big plus is the cost – the beer is SO much cheaper than it is here at about $.25-$.40 per bottle. I'll drink to that!
Well, this is where your tour ends for today and I finally close my book on the Netherlands vacation. My grocery store photo tour could go on showing the hundreds of cold cut meat options, the magical pudding called vla and the produce weighing station. But, I must head off to work today and back to my Chicago reality. Thanks for reading!