This past weekend, a most exciting thing happened in my life. I received my first organic produce weekly delivery box. I have been counting down the days like a 6 year-old waiting for Christmas. Even though I was out of town, I made my husband call me immediately upon its arrival and list its contents which were varied and plentiful.
One of the offerings was a dozen beautiful plums. (Detailed viewers – yes, two of them popped into our mouths before the above photo was taken.) I have never been much of a plum girl but ever since reading Luisa's post about the Dimply Plum Cake, I have been aching to use my new tart pan and whip up something plumelicious. It was as if the organic produce delivery people had read my mind!
Based mostly on my desire not to leave the house and make a trip to the store on Sunday, I found the easiest recipe I could, adjusted it a touch and baked up my first ever plum dessert.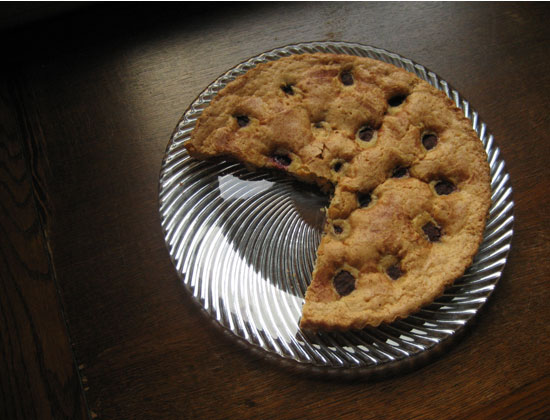 Half of the reason that I was jealous of Luisa's cake was the name. Who doesn't want to make something with such a cute name as Dimply Plum Cake? So, I decided that I would start making up my own more fun recipe names when I feel so inclined.
The Peekaboo Plum Cake is so easy it can be whipped up in minutes. And, I can speak from experience that it tastes good in the evening with a little ice cream or in the morning with your cup of tea.
Peekaboo Plum Cake
1 cup sugar
1/2 cup unsalted butter
2 eggs
1 teaspoon vanilla
1 cup flour
1 teaspoon baking powder
pinch or two of salt
10-12 plums, halved and pitted
1 Tablespoon sugar
1 teaspoon cinnamon
Grease and flour a 10 inch tart pan or spring form pan. Cream butter and sugar together. Beat in eggs and vanilla. Sift together flour and baking powder (or as a shortcut, whisk them together in a bowl) and then mix them into the butter/sugar/egg mixture. Taste the batter and add a bit of salt as needed. Spread the batter in the pan. Place the plum halves skin side up around the pan. Mix together sugar and cinnamon in a bowl. Sprink around the top of the tart. Bake at 350 degrees for 40-50 minutes. Tart should be slightly brown on top and toothpick should come out clean.
Find a list of baking tips here.
PRINT RECIPE