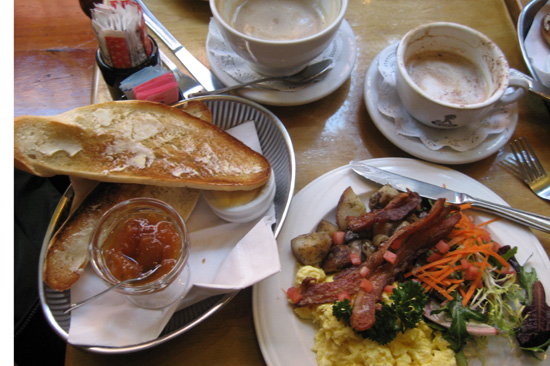 Last weekend, we ate our way through New York City. During our three day jaunt, we did not end up visiting a single museum, seeing a show or hearing live music. I did however put a number of things in my mouth that were some of the best flavors and food experiences of my life. Just the memories, as I sit here late at night thinking about it, make me shudder.
Amazing food brings me such joy and excitement, I almost wonder if I have a problem. Spending time with my husband, who happens to be my number one comrade, and discovering small, quaint restaurants and bakeries, perusing the menus and sinking our teeth into one delicacy after another makes me happier than just about anything.
I have decided to start a new category on Whipped called Food Finds by City for others who may be traveling and enjoy recommendations. In the coming days, I will start by sharing my recent New York City favorites.
The photo above is the image of my dream breakfast. Cafe Henri is a small, ten table restaurant that features crepes and other brunch dishes. I enjoyed the scrambled eggs, which were certainly made with cream and the perfect balance between fluffy and solid…moist but not wet. On the side you will see my bacon, potatoes, small salad and fresh bread with homemade peach preserves. Even the cappuccino was perfection and arrived with a mountain of foam akin to an angel's cloud. My husband ordered the nutella and banana crepe. After it arrived, I only saw the top of his head for about three minutes and his plate was clean. So, I gather it was equally as memorable.
Cafe Henri
27 Bedford St (between Carmine & Downing in the West Village)
New York, NY 10014
212.243.2846