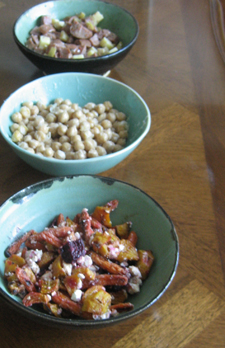 I made a big splash a month or so ago by excitedly announcing a Summer Salad Extravaganza and promised that there would be more to come. What a flash in the pan. I haven't produced other cold summer salad recipes…. until now! In an effort to keep your audience, I have produced three, easy cold salad recipe ideas. Presto!
After posting about the amazing vegetarian tart my neighbor delivered, Rachel mentioned she was also interested in the beet and carrot salad that was pictured next to it so I have provided that recipe in full.
In addition, I finally made the little-engine-that-could chick pea salad from Orangette. (This simple recipe has gotten more action in kitchens across food blog land than the farmer's daughter at the county fair.) And, since a trio of salads seemed nice, I threw together a simple antipasto salad with the chicken sausage, cheese and olives I had in my fridge. Just cube and toss together a combination of sausage, cheese and olives and drizzle with the best olive oil. Happy picnicking!
Roasted Beet and Carrot Salad with Goat Cheese
The proportions are really to your liking. If you like more carrots, add more! Cheesaholic? More cheese! Use the best ingredients you can find to make this simple recipe tastiest.
6 medium beets, peeled and diced
1 1/2 cups baby, peeled carrots
1/2 cup goat cheese (herbed goat cheese is nice with this)
balsamic vinegar
olive oil
salt
Preheat oven to 450. Peel beets and cut them in chunks. If you don't dying everything red, use golden beets. Line baking sheet with parchment paper. Put beet chunks and carrots on pan. Drizzle generously with olive oil and salt. Bake until fork inserted beets come out clean and carrots are browned. Remove from the oven and let cool. Toss cooled veggies together in a bowl with a spoon or two of balsamic vinegar. Add crumbles of goat cheese and toss together. Serve warm, room temperature or cold.