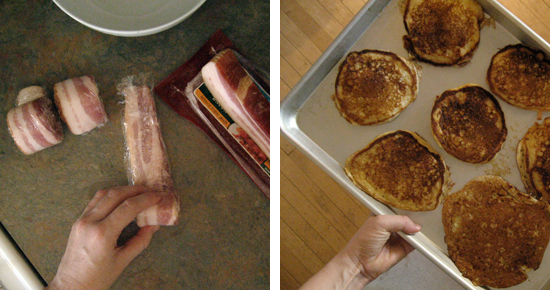 One of my favorite sections of Fine Cooking magazine is the cooking tips. Some magazines offer tips that are either ridiculously obvious or they offer such far-fetched ideas that they seem more hassle than help. With Fine Cooking, I often find myself wishing I had been clever enough to scheme up the simple solutions.
A year or so ago, I found this bacon storage idea. I don't know about you but although I adore bacon, I rarely use an entire package at once. Then, the remainder gets discolored and stinky in the fridge because I forget to use the final strips for club sandwiches or crumbled over salad. Storing bacon this way allows you to take out a few pieces at a time when you need them.
As for the pancakes, I have stopped cutting my perfect Buttermilk Pancake recipe in half when making it for two people and I just freeze the leftovers for a last minute weeknight meal. I recently found out, when a few rascal friends stopped over for dinner, that pancakes and bacon for dinner actually go well with a bottle of red wine.
BACON STORAGE TIP: Rip off a strip of plastic wrap about 4 inches wide. Put two pieces of bacon in the middle and fold sides over so it is completely covered. Roll up the bacon slices. Store rolls in a freezer bag or tupperware container in the freezer. Take out the amount you need as you cook.
PANCAKE STORAGE TIP: My friend Ebony gave me this idea. Her 3 year old loves pancakes so this allows her to do the work on the weekend and serve pancakes all week long. Put pancakes on a baking sheet and freeze for a few hours. Remove pancakes from sheet and store in a plastic bag together in the freezer. Putting them on the sheet pan first keeps them from sticking together when they freeze. I find that reheating pancakes in the microwave first and then the toaster oven for a few minutes makes them warm and brings back the crunchy edges. Microwave only or oven only works fine too.