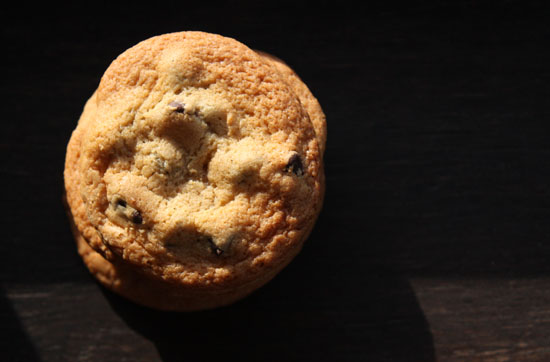 Have you noticed the cookie mania lately? We are in the midst of a cookie pandemonium in every magazine, on every radio station, on each and every morning TV show… cookies, cookies and MORE Christmas cookies. I suppose this year it is more intense than others due to the desire to make homemade gifts. The economy and all.
Well, I was in to it at first. I planned to make many different kinds of cookies, like last year when I made these and these and these and these. Instead, it got to be too much and the dog-eared magazines and bookmarked web recipes led to excessive option paralysis and drove me straight back to the plain old chocolate chips.
These are almost like Toll House except different. I think the sugar ratio is a little different. What really intrigued me was the melted butter. I don't know why melting the butter makes this banana bread so good. But, it seems to be part of the secret. I wondered if melting butter might also be the secret to the best chocolate chips.
I am not ready to say that I have found the best basic old chocolate chip cookie recipe of all time. But, I might be close.
Mom's Chocolate Chip Cookies
From Mom's Big Book of Baking by Lauren Chattman
2 1/4 cup unbleached all-purpose flour
1 t baking soda
1 t salt
1 cup (2 sticks) unsalted butter, melted and cooled slightly
1 cup firmly packed brown sugar
1/2 cup granulated sugar
2 large eggs
1 t pure vanilla extract
2 cups semisweet chocolate chips
1 1/2 cups chopped walnuts or pecans (optional)
Preheat oven to 375 degrees. Combine flour, baking soda and salt in a medium mixing bowl. Cream cooled melted butter and sugars together in a large mixing bowl with a wooden spoon until smooth. Add the eggs and vanilla and beat until smooth. Stir in the flour mixture until just incorporated. Stir in the chocolate chips and nuts if you are using them. Place in the bowl in the fridge for 10 minutes or up to 6 hours to let the dough firm up.
Drop batter by the heaping tablespoonfuls onto ungreased baking sheets, leaving about 3 inches between each cookie. Balls of dough may be placed on parcment sheets, frozen and transferred to ziplock bags in the freezer. Frozen cookies may be placed in the oven direclty from freezer.
Bake cookies until golden around the edges but still soft on top, about 10 minutes (a minute or two longer for frozen dough). Let the cookies stand on the baking sheet for 5 minutes and then remove to a wire rack to cool completely)
PRINT RECIPE