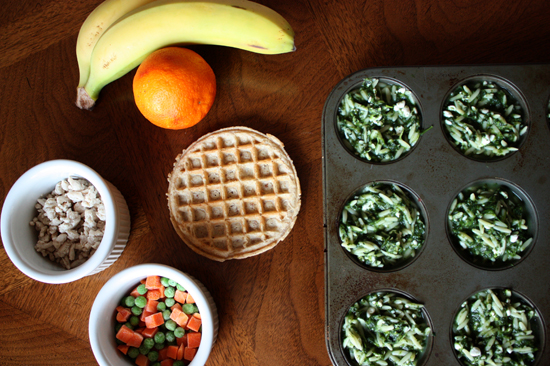 A child's first year of life is a whirlwind. Some days, if you watch close enough, I swear you could see them grow right before your eyes. Mini Whipped's palate has evolved as fast as her motor skills. It has kept this cook on her toes! By 5 months, we were feeding her rice cereal. A few months later, I started making her homemade baby food and freezing it in ice cube trays. (Find first set of baby food tips here.) Now, at 1 year of age, she will eat just about anything. Still, I have found that having readymade meals in the freezer makes things easy when our schedules are taxing.
Some tips and ideas for feeding a 1 year old:
MUFFIN TINS: Upgrade frozen portions from ice cube trays to muffin tins! The perfect new portion size.
ORZO PASTA: A great pasta to add to meals. It is small enough you don't have to cut it further and big enough to add some appreciated texture.
VEGGIE BABY LASAGNA: Steam a bag of frozen spinach. Puree it. Mix in orzo pasta, small curd cottage cheese and a bit of shredded mozzarella. Freeze portions in muffin tins.
WAFFLES: Whole wheat frozen waffles are a favorite breakfast treat in our house. Just cut them up in small squares and serve with bananas.
GROUND MEAT: Ground turkey and chicken are fast and easy. Freeze in baby size portions and pull them out to saute quickly for finger food. Serve with peas and carrots. The organic frozen veggies will thaw in hot water while you cook up the ground turkey.
POLENTA: Follow package directions, put the cooked polenta in a loaf pan. Use slices as needed for baby and parents! Try topping with your favorite pasta sauce.
MINI PIZZAS: Buy mini whole wheat pita breads. Top with sauce, cheese and ground meat or veggies and put them in the toaster oven or under the broiler. Put extras on a baking sheet and freeze them. Stack the frozen pizzas in a tupperware and take out as needed.
SMOOTHIES: Yogurt and fresh fruit smoothies will teach your little one how to use a straw in no time!