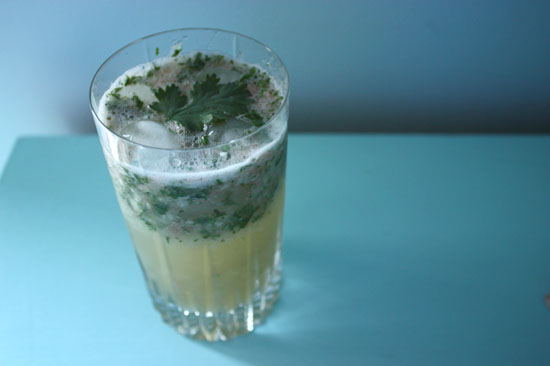 This drink recipe was on the first page I dog-eared in Emeril's new grilling cookbook. I have long time declared my love for cilantro. I feel refreshed by cucumber water at spas. Pink grapefruit is a favorite fruit for its color, aroma and bright flavor. Gin and tonic is my "usual." HOW COULD THE SUM OF THESE PARTS HAVE GONE WRONG FOR ME?
This drink taught me not to be 100% sure of things. On a warm day last week, I made a special trip to the store for the ingredients so I could feature the summery drink during a Friday evening picnic on our deck. (You can see my full menu plan on my chalkboard door pictured here. Thank you Design Sponge!) I took the above photograph with thoughts of titling this post "The Best Summer Drink Ever." I handed out the coolers to my guests. We tried them. We wanted to like them. But we didn't.
Give it a try. Prove me wrong. Tell me you love it. You can even watch Emeril himself make it here. Anyone have a better summer drink cocktail recipe to cheer me up?
Gin Cucumber Cooler
Ingredients:
1 large cucumber (10 to 12 ounces), peeled, seeded and cut into 1/4-inch half moons
1/2 cup fresh cilantro leaves
1 quart ice
1/4 cup Cilantro Syrup, recipe follows
3/4 cup freshly squeezed ruby red grapefruit juice
1 cup gin
1/2 cup grapefruit soda (i.e. Blue Sky or Fresca)
In a food processor, combine the cucumber and cilantro and pulse until pureed and chunky. Divide the puree among 4 12-ounce glass tumblers. Add 1 cup of ice, 1 tablespoon of cilantro syrup, 3 tablespoons of grapefruit juice, and 1/4 cup gin to each of the four glasses and shake vigorously using a shaker. Return the cocktail to the tumbler and top with the grapefruit soda and serve.
Cilantro Syrup
Yield: 1cup syrup
1 cup granulated sugar
1/2 cup water
1/2 bunch cilantro stems and leaves, washed and patted dry
In a 1-quart saucepan, combine all the ingredients and bring to a boil. Stir the pan occasionally to help dissolve the sugar. Once the pan comes to a boil remove from the heat and completely. Once cool, strain through a fine-mesh sieve and store in a re-sealable plastic container in the refrigerator for up to 3 weeks.