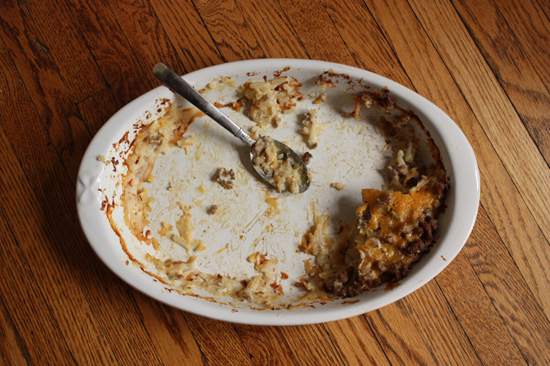 I haven't been updating Whipped as often as I would like. At this time of year, plentiful fruits and vegetables along with fresh herbs call to me and I WISH I had my camera out more often and took the time to revel in the abundance with all of you. My excuse is that I have been sticking to my plan and have been making my '2009 Summer of Fun' dreams come true. So, I have just been too busy!
The past weeks have included an outdoor classical concert, boating, fresh berries, reunions with old friends, new restaurants, human pyramids, dog parks, swimming, picnics, water parks, BBQs, late afternoon beers, a spectacular horse show and a few parties. Just yesterday I hosted a bunch of neighborhood families over for brunch.
This sausage casserole is one of my friend Steph's standby dishes. She hates eggs so breakfast casseroles and brunch menus are usually on her DON'T list. In this creamy flavorful dish, I promise you won't miss eggs for a second. Though this photo doesn't give you a good sense of what the casserole looks like, it gives you a great idea of what is ALWAYS left after the gathering.
Sausage, Cheese and Potato Breakfast Casserole
Bon Appetit, November 1997
1 pound bulk breakfast sausage
2 tablespoons all purpose flour
1 1/2 cups milk (do not use low-fat or nonfat)
1 1-pound package frozen shredded hash brown potatoes
4 green onions, finely chopped
1 1/4 cups grated sharp cheddar cheese
Preheat oven to 350°F. Butter 8x8x2-inch glass baking dish. Cook sausage in heavy large skillet over medium-high heat until brown, breaking into small pieces with back of spoon, about 5 minutes. Mix in flour, then milk. Cook until mixture thickens and comes to boil, stirring occasionally, about 5 minutes.
Arrange potatoes in prepared dish. Top with 1/3 of green onions, 1 cup cheese, 1/3 of green onions, sausage mixture and remaining 1/4 cup cheese.
Bake casserole until potatoes are tender, about 45 minutes. Sprinkle with remaining green onions and serve.
Note: I doubled the above recipe for 10 people.
PRINT RECIPE