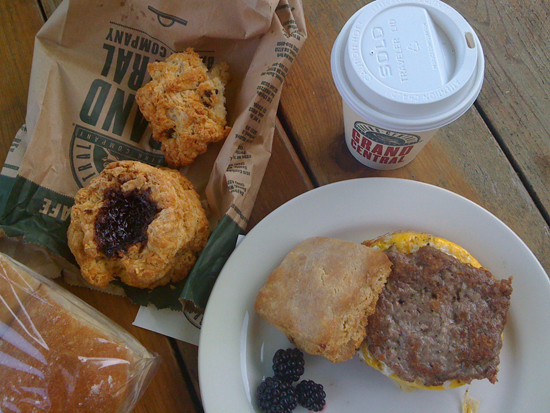 As usual, I am marking the passing days of my life by the food that I eat. It has been a whirlwind of a few weeks with the sale of our condo (yeah!), the purchase of our new house (double yeah), preparations for our annual trip to visit family in the Netherlands and Greece (phew) and my current trip to Portland, Oregon to visit a dear friend. I have learned in the past few days that doing other people's dishes and chores can be very cathartic in busy times.  And, as always, I am finding satisfaction in providing love to those in need by cooking for them.   
This morning, I was up at 6 am, charged with the care of my favorite new little 6 week old baby for a few hours.  I put her in a sling, leashed up my friend's dog and headed out to wander north Portland. Within a mile, I had passed two microbreweries, half a dozen cute eateries, an awesome non-profit salvage shop, I'd learned about storm water drainage systems thanks to an informational sign, marveled at a plastic quilt making project meant to inspire people to live plastic free and was finally lured into an amazing bakery.   Smells of their fresh-baked treasures and locally roasted coffee were flooding the street and beckoned me forth the like the Sirens to the rocks.  
I scanned the offerings in the case and on the menu, flicked the $5 bill in my pocket and asked, "Do you take credit cards?"  The affirmative answer started my usual uncontrolled bakery binge.  One irish soda bread, a jam filled scone known as a "jammer," bread for panini making, coffee and a breakfast sandwich.
The breakfast sandwich deserves a paragraph of its own.  Last time I was in Portland, Maine, I blogged about the best bagel sandwich of my life.  Well, this West coast Portland has just earned the title for the best biscuit sandwich of my life.  It is the little things… they had split the homemade biscuit and toasted the open ends just slightly before melting white cheddar against a farm fresh egg and disk of sausage.  
Thank you Portland… for providing unexpected treats on every corner.  If measured by my culinary delights, this trip has been a major success so far.