For those who have been visiting Whipped, looking for some new taste treats, I apologize for being M.I.A.. House guests, travel, family and general life obligations have kept me away from the computer. I have enjoyed some wonderful meals and food experiences but for those of you who blog, you probably know how one just needs a break from the documentation sometimes.
Perhaps you will forgive my absence if I offer you one of the best cookie recipes of all time? My sister sent me this recipe so I knew they would not disappoint. She is responsible for many of the most delicious baked goods on Whipped including this apple crunch cake, these buttermilk cupcakes with lemon frosting and these Dutch almond bars. I have always enjoyed ginger snaps but this recipe truly is over the top. They are crunchy on the outside, soft and doughy on the inside with pretty trenches across the top and and a strong ginger taste.
I misread the original recipe which said to drop the cookie sheet on the counter straight out of the oven to even out the cookies. I actually scooped up the hot cookies with a small spatula and dropped them on the counter individually. Not only did it make a better shaped cookie with pretty increased cracks, it was incredibly fun to sling them around. If you choose to indulge in this exercise, drop them from about 5 inches high, leave them for a few minutes and then transfer them to the cooling rack. Happy mixing, baking, dropping and eating!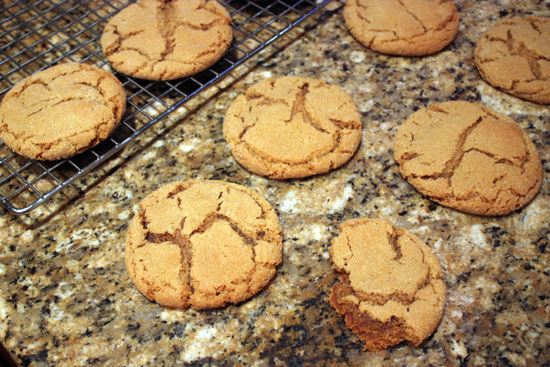 Giant Ginger Snap Cookie
Makes about 2 dozen 4 inch cookies
4 1/2 cups all-purpose flour
2 tsp baking soda
1 tsp salt
4 tsp ground ginger
1 1/2 tsp ground cinnamon
1 tsp ground cloves
1 1/2 cups shortening
2 cups sugar
2 eggs
1/2 cup molasses
3/4 cup coarse sugar or granulated sugar
In a separate bowl, stir together the flour, ginger, cinnamon, cloves, soda, and salt. Set aside. In a large mixing bowl beat shortening until softened. Gradually add the 2 cups of sugar; beat until fluffy. Add eggs and molasses; beat well. Add half of the flour mixture; beat until combined. Stir remaining flour in with wooden spoon. Using a ¼ cup ice cream scoop, shape dough into 2-inch balls. Roll in the coarse of granulated sugar. Place on ungreased cookie sheet about 2 ½ inches apart. Bake at 350 for 12 to 14 minutes or until cookies are light brown and puffed (Do not over bake). Drop cookie sheet on counter. (helps with evening out cookies) Let stand 2 minutes before transferring to wire rack. Cool.
PRINT RECIPE