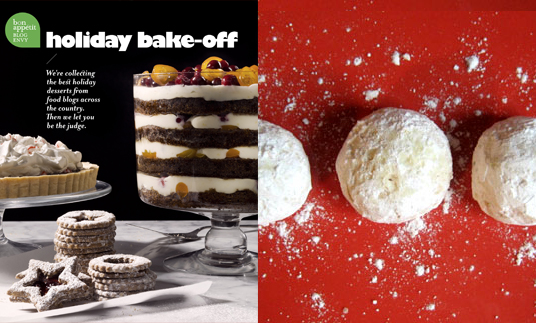 Imagine me as a little kid, hand stretched into the air, bottom levitating off the desk chair with excitement and eagerness. I come to you, kind readers, with that sense of excitement, eagerness and hope! There is no room for sheepishness here. I want to go to New York and eat dinner with the editor of Bon Appetit. To earn that right, I need to win this Holiday Bake-off contest. To win the contest, I need the most votes.
I am usually not so eager. I wouldn't normally come forth asking for such help from strangers. But I could use this. Life has been hectic. Very hectic. And, a jaunt to NYC would be so grand.
Willing to help? VOTE HERE for the Kourabiethes, Greek Butter Cookies in the cookie category. And IF I win and you leave me a comment telling me you voted, I will send you these cookies.