Chicago, Illinois.  Event hosted by BlueStar with special guest, celebrity chef Marcus Samuelsson. My inner dreamer takes over for the night.

Hello.  I am the dreamer that lives inside Caroline's head.  I'm always lurking and putting in a good word for the blue sky ideas.  But a few weeks ago, due to various circumstances, I saw an opportunity to shine center stage and I took it.
It had been a difficult few days for Caroline.  Due to some sad news and a heaping workload, Caroline's emotional manager and reality barometer were taxed and tired.  We attended an event hosted by BlueStar (amazing restaurant-like ranges for the home) featuring Marcus Sameulsson, chef extraordinaire.  He was unveiling a new line of ranges, 'Inspired by Marcus.'
Caroline started with a few glasses of Prosecco.  Next we began working our way through the passed plates amazed by such delicacies as oysters topped with spring pea foam.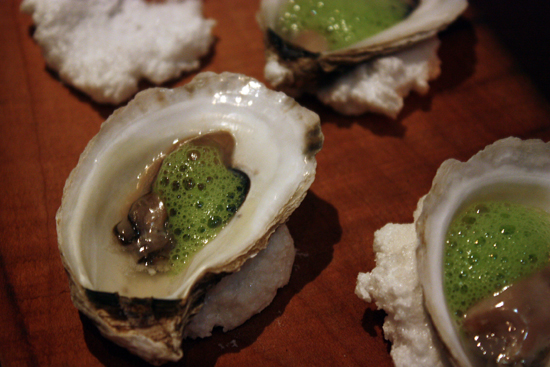 As I mentioned, Caroline was tired and beaten down and I, the dreamer inside her head, had been neglected of late.  With the help of the drinks, the intoxicating food and the relief of having a carefree night out, I pushed my way to the front and took over her consciousness just as Marcus was beginning his presentation.
Well-spoken, world renowned chef Marcus Samuelsson is a handsome chap with a positive vibe.  He took the microphone just a few feet in front of me and began to explain his partnership with BlueStar.  He seems like a down-to-earth guy with a solid foundation and earnest spirit.  I was getting more and more engaged as he explained his philosophy on food and shared stories of his culinary adventures and travels.
Next, Marcus dramatically pulled the white cover off a shiny, new copper range. The Beauty has more BTUs than a home cook could dream of and sexy french oven doors so gorgeous that baked goods would feel as priveledged as guests in a penthouse suite.  At this point, I realized that Marcus was speaking directly to me.
The extraordinary chef explained to me that if this range was in my house, we could produce food that tasted just as good as his.  And, I realized that Caroline should quit her money-making marketing business and just cook.  Oh what dishes could be created with a restaurant-quality range, just the right color of copper!
Fast forward a half hour and I found myself explaining to Marcus and a distributor that I needed that exact range that they just unveiled, especially since it matched my hair.  I confidently tried to bargain with them and find out what it would take to get that copper floor sample into my home the next day.  I agreed to redo my entire kitchen if that exact range was too big to fit where my current stinker of an oven resides.  They all smiled at me, laughed a little….. and did not agree to sell me the range.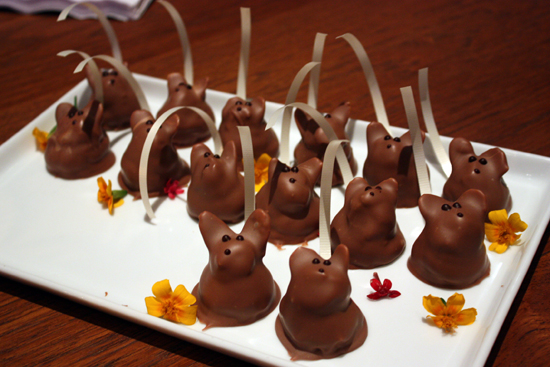 Now that Caroline is rested and the more realistic sides of her brain have balanced me into my usual place, she is kind of glad that they wouldn't sell that range that night.  If they had agreed, I would have whipped out her credit card and she would have been some thousands of dollars poorer with a range that didn't fit her kitchen.
A few weeks later, I wonder if my grandiose memories of the evening are accurate. Luckily, we have this BlueStar promotional video in which yours truly announces that  "my 100 year old home was built for that range rather than the range being built for my home."   Yes, it was clear that I, the dreamer, was running the show that night.  And though the more balanced Caroline is back in charge, she smiles at the memory of the evening and she appreciates that BlueStar and Marcus have served up something special… a new product and marketing cocktail that tickle the dreamer inside home cooks just like me.