It's harvest time!  Arugula, spinach and mixed greens from my small backyard plot are ready for plucking.  We've been enjoying them with a simple walnut vinaigrette.
I have had bits of success with potted edibles in the past. Mostly, I have enjoyed a variety of herbs and one year even grew cucumbers on a small porch off my first Chicago apartment.  As a child, I remember urges to grow vegetables and things of my choosing but our large yard was planned and manicured for the frequent entertaining that was an important part of my father's job.
The summer after tenth grade,  I did have a unique experience growing tomatoes in pots near our porch.  Our biology class followed some sort of NASA experiment involving "space tomatoes."  The details are hazy but I remember that certain tomato seeds had been sent into space for awhile.  We grew the control seeds alongside the space tomatoes and tracked data about their progress.  When school ended, we were permitted to take as many of our seedlings home as we wanted.  Excited to fulfill my urge to farm, I carted home a tray of the space tomatoes.
My mom indulged me with a few large pots so that we could scoot my experiment off the side of the garden.  A family friend showed me how to pinch the side shoots off so the plants would grow taller.  Though it may have been the perfectly sunny spot we chose and my daily care (obsession), I like to believe it was the time spent on a satellite in space that helped those tomato plants grow over 6 feet tall!
The harvest was plentiful and the tomatoes beautiful.  The only problem… raw tomatoes are the one food that I really have never and will never learn to like.  I wasn't much of a chef at age 16 so I didn't know enough to roast them with garlic or use them in panini.  I loved those space tomatoes, I just didn't eat them.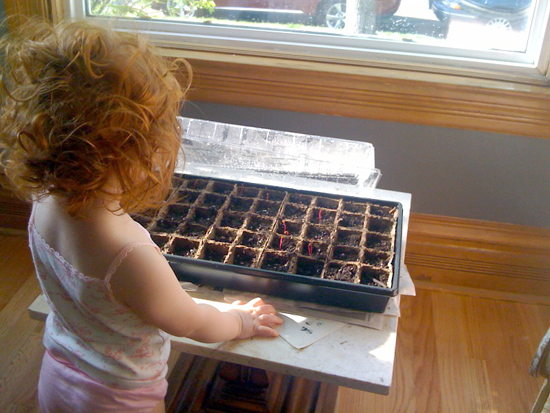 Nearly 20 years later, I have my own backyard and I am an urban farmer once again!  The learning curve about our climate, seasons and soil has been steep but so far, so good.  My little veggie plot is currently filled with arugula, spinach and mixed greens.  Mini Whipped helps me take good care of our beet, pepper and basil seedlings.  I'm also hoping for cucumbers, pole beans and my usual grouping of herbs.
Since I plan to enjoy a regular "house salad" I have decided to develop a house dressing:)  Inspired by my talented friend Katrina, who introduced me to this combination, I have been enjoying a nutty walnut oil/olive oil mixture with apple cider vinegar.  It is a perfect compliment to the leaves of arugula mixed in with my other greens.  I bet it would also taste amazing drizzled over a few space tomatoes.
Walnut Vinaigrette Dressing
Makes enough dressing for 4 side salads.
1 Tablespoon walnut oil
1 Tablespoon olive oil
3 teaspoons apple cider vinaigrette
1/8 teaspoon salt
1/4 teaspoon sugar
Put all ingredients together in a jar and shake until well combined. Or, whisk in a bowl until well combined. Toss with mixed green and other salad fixings of your choosing.
PRINT RECIPE