Father's Day is this Sunday.  If your Pops likes good grub, you might want to send him this Zingerman's Reuben Sandwich Kit.
So, I jumped the gun a bit and made some early Father's Day Reuben Sandwiches from Zingerman's.  Why?  So I could tell you how good they are in time to order them for your Dad, of course!  What sacrifice.  (If  you do order, use the code ZINGDAD to get 10% off.  Thanks Zingermans!)
I've always appreciated Zingerman's use of  illustrations instead of photographs of their products in their clever catalog. Even with the best food stylists, there is no way you can quite capture their food experiences in a photo.  There is an extra aura of yummy magic that comes from the sum of all the perfect parts that can only be understood when all 5 senses are actually engaged.  Their whimsical drawings help you better imagine how your palate will play.   (Please excuse my best attempts to photograph and post their delectable wares.) The idea of ordering a sandwich kit in the mail may raise a few eyebrows. Before you let your skepticism dismiss the idea entirely, let me talk you through it.  A large box arrives packed to the gills with loads of fresh food.  A heavenly loaf of bread, two packages of top-of-the-line corned beef, neatly packed slices of cheese, containers of Russian dressing, coleslaw and potato salad.  Four hefty dill pickles are included to anchor the edge of each plate.  And as if that isn't enough, they've thrown in a few fresh baked goods to send you all the way into food coma bliss.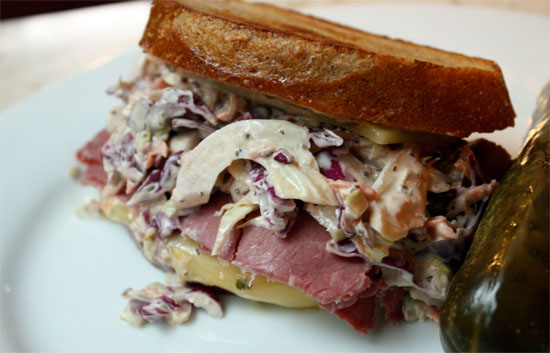 The best part?  Instructions to guide and help you create the type of enormous, deli-style Rueben you never imagined could come out of your kitchen.  Depending on where you live, chances are that you can't get the high level of ingredients that Zingerman's offers in one place.  That is why if your Dad is a sandwich lover or foodie in general, sandwiches by mail are a worthwhile splurge.
Additional side benefit?  The brown, crinkle filling from the Rueben kit package makes one heck of a lion mask.  You know how Dad always loves a good scare. "Roooooaaarrrrr!"  Happy Father's Day to all of you out there.