An easy gift for those interested in wine. Pair this book with one of the bottles personally suggested by the authors for Whipped readers. Thank you Karen!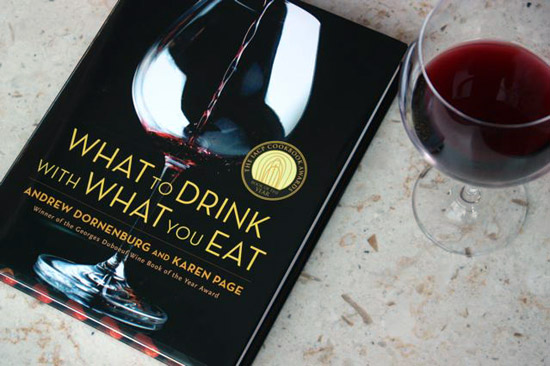 This blog has brought me many wonderful surprises from connecting with kindred spirits to reunions with old friends to introductions to wonderful new things. Most recently, after writing about my goal to further my wine education, I was contacted by Karen Page, co-author of What you Drink with What you Eat with an offer of helping me along on my journey. She generously agreed to send me a copy of her book. It turns out, it is EXACTLY the book I have been looking for.
The easy-to-use book includes basic information about food and wine pairing as well as menus from expert chefs. My absolute favorite section is a comprehensive index of all foods with suggested wine pairings and notes about what pairs best.  As you can see by the page pictured here, you will find everything from certain ingredients like mayonnaise to cuisine styles like Mediterranean to iconic fast food choices like the McDonald's Big Mac.  And, tucked in here are there are cocktail recipes and additional notes and quotes from sommeliers.  For the amount of information that is included, the book is exceedingly simple to comprehend and navigate.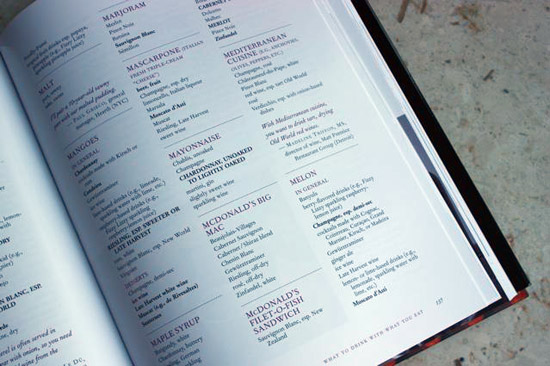 If this book sounds like the right fit for someone on your 'nice list,' consider pairing it with a bottle of wine. Karen Page, one of the co-authors, was generous with her time (even though she is busy sipping in Portugal!) and emailed me the following suggestions:

A perfect wine to accompany the book would be a bottle or two of something that's extraordinarily food-friendly. Our highest recommendations would be a bottle of sparkling wine (esp. Rose), Riesling, Pinot Noir, and/or Moscato d'Asti.
If you're looking for brand recommendations of choices, we might suggest:
– Iron Horse Brut Rose (around $50)
– Dr. Loosen Dr. L German Riesling (around $12) or Chateau Ste. Michelle Riesling from Washington State (also affordable)
– Vietti Moscato d'Asti (around $15)
Readers can use winesearcher.com to find a local retailer who carries the wines. If you only want to feature ONE wine, we'd suggest a bottle of Moscato d'Asti from any good producer (another is Saracco) — it's a slightly sweet, semi-sparkling wine that is universally loved at dessert time (or even brunch!).
Thank you Karen for your generosity, time and knowledge!
Whipped friends, you can purchase the book here.