This holiday season I find myself buried in work, over scheduled and 7 months pregnant. So, instead of being inventive, I am turning to my old stand-by favorites for holiday gifts.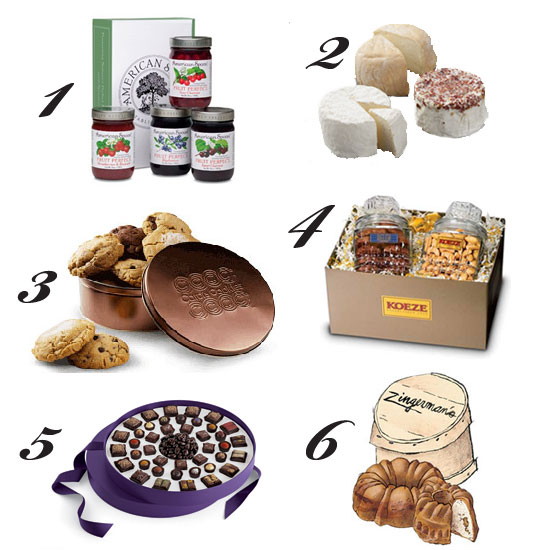 If you need a few ideas, many of these places are still shipping in time for Christmas. From jams to cheese to cookies to cakes to delectable gourmet chocolate, there must be SOMETHING here for everyone on your 'nice list.'
1. American Spoon – Fruit Perfected Foursome, $39.50
As a Michigan girl, I get excited about Michigan foods. These amazing jams are Michigan summer in a jar. Though they are amazing on toast, I have been known to snitch a spoonful.
2. Cowgirl Creamery – The Cowgirl Collection, $58
Cheese, glorious cheese! Sometimes all the sweet things get to be a bit too much during the holidays.
3. Carol's Cookies – Small Gift Tin, $26
This Chicago cookie company offers one of the best mail order gift values around. These nearly 4-inch cookies make an impression AND they taste amazing too!
4. Koezes – Chocolate Pecan Turtles + Cashews Gift Box, $55
This nut company is headquartered in my home town of Grand Rapids, Michigan. Their peanut butter is top notch but at the holidays, I choose their version of a classic turtle, Pecan Puddles. Throw in a jar of the best quality salted cashews? Can't go wrong here.
5. Vosges Haut-Chocolat – Ensemble du Chocolat, $135
I have had a personal and professional relationship with this fine chocolatiere for over a decade now. Of this year's new items, I vote for the Ensemble du chocolate. I always loved picking my way through a sampler box. This is like sampler elevated a thousand times with the most decadent, exotic of chocolates.
Vosges Discounts & Deals for Whipped Readers!
10% off for Whipped readers with code 2810WB1 or
Free Standard Shipping for orders over $75 with code 2012FS
AND, Free Chocolate Cameo starting this week Friday with every order!
6. Zingerman's – Sourcream Coffee Cakes, $25-50
A standby from a standby. If you buy mail order food and you haven't heard of Zingerman's I'd be surprised. The mail order company started with this coffee cake and it remains their bestseller for good reason.