I understand the hoarding instinct. Freezing dozens of delicious meatballs for easy, future meals made me feel incredibly satisfied and safe.
Life has been hectic the past few weeks as I eased back into full time work and adjusted to life as a working business owner and mother of two. Cooking dinner nightly used to help me wind down and relax. And, I am sure some day when I get new systems in place, it will again be a pleasure. Unfortunately, I have been so drained the past fortnight that I find myself staring blankly into a full fridge each evening without a drop of culinary creativity. When cooking no longer excites me, I know that my energy is fully tapped. 
I am a solution seeker. The moment something isn't going right, I begin to problem solve. We have been eating too much take out food and I have baby weight to lose! So, I have come up with a few solutions to my problem.
First, I visited a local butcher and stocked up on lean meats to fill our freezer. I planted three long rows of lettuce, spinach, kale and swiss chard in our backyard and when it matures in the coming weeks, we will simply turn on the grill and eat lean protein alongside garden fresh greens.
I have also decided to use weekends to prepare healthy food for easy, future consumption. Turkey meatballs fit the bill. Ground turkey keeps these meatballs a bit lighter while using dark meats keeps them flavorful. I cooked them before freezing to save even more time during the week.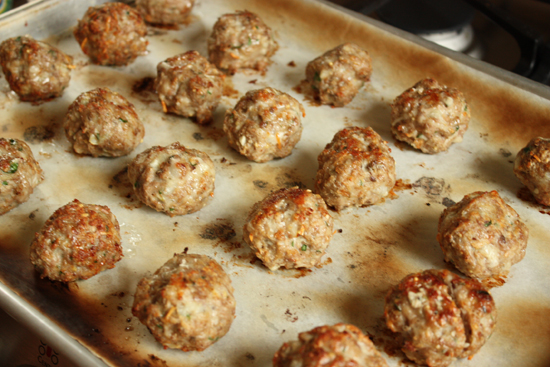 As I filled freezer bags with dozens of cooked meatballs, an overwhelming sense of satisfaction and calm washed over me. I began dreaming of a second freezer filled to the brim with ready-to-eat foods that require minimal weeknight preparation.
What to do with all these meatballs? Serve them to Mini Whipped with barbecue dipping sauce, mix them with sauce and serve over whole wheat pasta, tuck them in a sandwich  (voice rising, pulse quickening)  my culinary enthusiasm is already returning!
Turkey Meatballs
Makes about 3 dozen
3 slices bread
1/4 cup milk
1 1/2 pounds ground turkey (93% lean, dark meat)
1 small shallot, finely chopped (or 1/4 cup onion)
3 small garlic cloves, minced
2 tablespoons chopped fresh parsley
1/2 cup grated parmesan cheese
1 large egg, slightly beaten
1 teaspoon coarse salt
1/2 teaspoon ground pepper
Place bread in food processor and pulse until it is crumbs. Mix breadcrumbs with milk and set aside while you gather and combine other ingredients. In a separate bowl, combine all other ingredients by mixing with your hand or a fork. Add the bread crumb mixture and combine.
Make 1 inch balls (about 2 level Tablespoons of meat mixture) and arrange them on a baking sheet lined with parchment paper or sprayed with a touch of olive oil. Broil the meatballs in the oven for about 10 minutes, turning them over half way through. Be sure inside is fully cooked.
FREEZING MEATBALLS:
To freeze them raw, place raw meatballs on parchment lined baking sheet in the freezer. After an hour, transfer them to freezer bags. To freeze cooked meatballs, let them cook completely before placing them in freezer bags.