This is the best chard recipe I have ever tasted. It even turned a chard hater into a chard tolerator.
I suppose it was my bragging around town about my explosive garden of backyard greens that awarded me this recipe. During a visit to a client, my new pal Emily and I digressed from the work topic at hand and began talking gardening and chard.  She excitedly jumped to the edge of her chair as she recommended this recipe from Fine Cooking. By the time I had returned to my office, I found the link in my inbox. One glance through the ingredients and I knew it would taste good. The end result delighted me even more than I expected.
After my multiple bunches of northern lights chard were planted in the ground (you can see by the gorgeous stems where it gets its name), I learned that Mr. Whipped did not like chard and wouldn't eat it. It could be that he had expressed such feelings before and I blocked them out when planning the garden. Admittedly, the sleeplessness of Baby Whipped has my listening skills at an all-time low.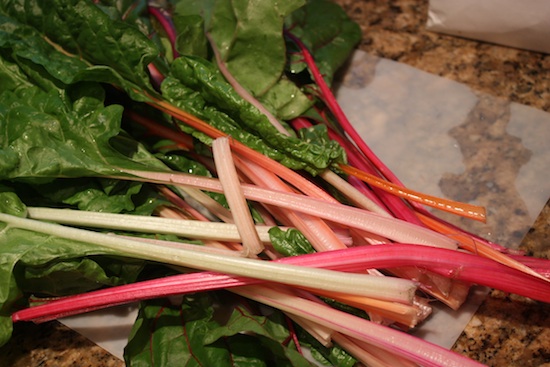 Because I found this recipe so intoxicatingly delicious, I insisted that he try a bite. He liked it! So, here you have a magical recipe that can turn a chard hater into a chard tolerator. I followed Emily's suggestion and skipped the butter at the end mostly to show an ounce of restraint in honor of my weight loss goals. I am sure that the tablespoon of butter would only have further elevated the experience. Though the recipe suggests you serve the dish immediately after cooking, I found that it made a delicious cold salad for lunch the following day.
Go ahead chard haters… I dare you.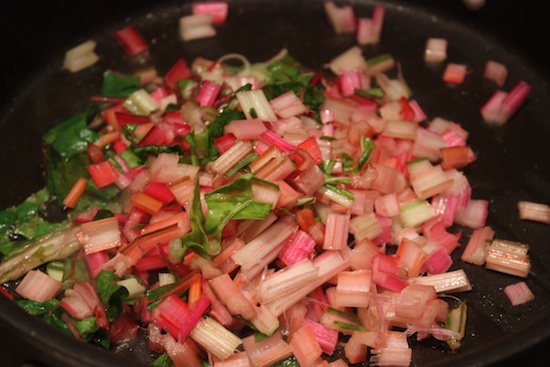 Rainbow Chard with Pine Nuts, Parmesan & Basil
from Fine Cooking
13 to 14 oz. Rainbow chard (about 1 large bunch)
1 Tbs. extra-virgin olive oil
3 Tbs. pine nuts
Kosher salt
1 Tbs. minced garlic
1 Tbs. cold unsalted butter, cut into 4 pieces
1/4 cup grated Parmigiano-Reggiano
1/4 cup thinly sliced fresh basil leaves (8 to 10 large)
Pull or cut the stems from the chard leaves. Cut or rip the leaves into 2- to 3-inch pieces and wash and dry them well. Rinse the stems and slice them crosswise 1/4 inch thick.
In a 12-inch nonstick stir-fry pan or skillet, heat the olive oil over medium heat. Add the pine nuts and cook, stirring constantly, until lightly browned, 2 to 3 minutes. Transfer the pine nuts to a plate, leaving behind as much oil as possible.
Return the pan to medium-high heat, add the chard stems and a pinch of salt, and cook, stirring occasionally, until shrunken and beginning to brown lightly, 6 to 7 minutes. Add the garlic and cook just until fragrant, about 15 seconds. Add the chard leaves and 1/4 tsp. salt. Toss with tongs until just wilted, 1 to 2 minutes. (If using a skillet, you may need to add the chard in batches, letting the first batch wilt before adding more.) Remove the pan from the heat, add the cold butter pieces and stir just until the butter has melted.
Using tongs, immediately transfer about half of the leaves and stems to a serving plate and arrange. Sprinkle on half of the Parmigiano, basil, and pine nuts. Layer on the remaining leaves, stems, and pan juices, and garnish with the remaining cheese, basil, and pine nuts. Serve immediately.