Don't skimp on ingredients with this one. Quality butter, the best bread and a delicate salt will make a huge difference.
I'm baaaack… After returning from vacation, one of the many recent thunderstorms in Chicago seemingly broke our modem/router disconnecting us from the internet for a number of days. I never realized how much I rely on "being connected" for recipes, weather reports, maps and working at home. After hours on the phone with customer service, a trip to the ATT store and some reconfiguration, we have returned our household to the 21st century.
Due to excessive summer heat and wonderfully fresh produce, we are eating a lot of simple, cold foods. The above photograph turns up the corner of my mouth as it is the product of three wonderful friends. Last summer, we spent an evening at my friend Jessica's house enjoying her lush back yard. She is a fellow food aficionado and served up a mouthwatering spread. That evening, Jessica introduced me to this simple delight – radishes on buttered bread with salt.
About a month ago, my friend Kathy was leaving for a culinary escapade in France (which you can read about here.) Kathy's footprint is all over this blog as she introduced me to this almond tea cake, these pecan rolls, she makes these mini cookies and her coup d'etat, THE Flag Cake. Before she skipped town, I was fortunate enough to be the recipient of her kitchen "overstock." She delivered some passion fruit simple syrup she had been using to make a friend's wedding cake (we made it into passion fruit mojitos), a few loaves of bakery bread and a bunch of deliciously spicy radishes still dirty from her garden. Yes, it is good to be Kathy's friend.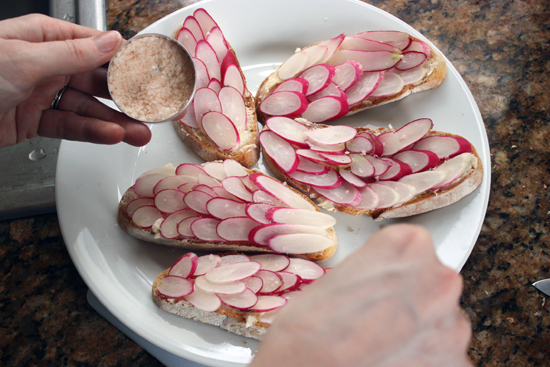 A few days later, we shared a summer evening with my pal Ebony's family. They are not only food lovers but much better chefs than I am. Culinary experiences with these two, whether a pancake brunch or chili that took 24 hours to make, are always a unique pleasure. I put Ebony to the task of buttering the bread and slicing the radishes. Perhaps it is the talented designer in her that led the way to this beautiful result. She sliced and placed the radishes on the bread just so before sprinkling them with Australian pink flake salt. Had I prepared them, it would have most certainly been a more haphazard heap. Aren't they gorgeous?
A simple piece of bread with butter, radishes and salt will forever please my palate and remind me that I am fortunate to be surrounded by big-hearted, food-loving friends.