There is something very satisfying about a good numbered list. Here are a few things that have been on my mind and have been tickling my desire.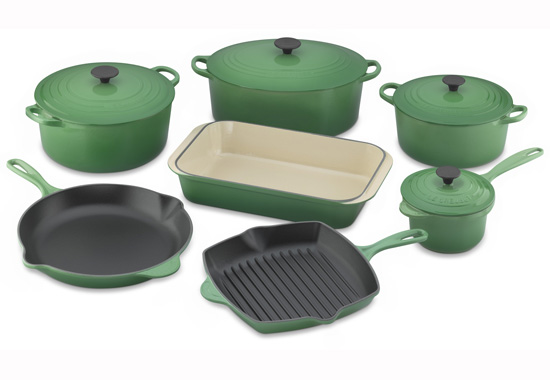 1. La Creuset Classic 11-piece in Green
The cool weather is whispering sweet messages in my ear and it is saying that it is time to start cooking things slow and long. I have always coveted  La Creuset cookware. For some reason, I have never pulled the trigger and bought myself any. During a little work break, I browsed through the website and let out a little audible gasp when I came across this set. Now I don't want just one dutch oven, I want to build a new visible shelf in my kitchen to showcase this lovely family of cast iron. It could change my winter cooking for years to come!
2.Chai Tea Glasses with Carrier
We stumbled into a cute store in Lincoln Park last weekend called The Green Goddess Boutique. The vintage chandeliers in the window first caught my eye. Upon entering, we found additional treasures including sets of little glasses in wire carriers.The boutique clerk explained that they were chai tea carriers. (I had imagined carrying good bourbon around a standing room only party!) When you aren't using them to serve something sip-able, you could use them flowers like they did here. What I really wish is that this set with a green carrier was still available. See a pattern emerging? I am in a blue/green phase.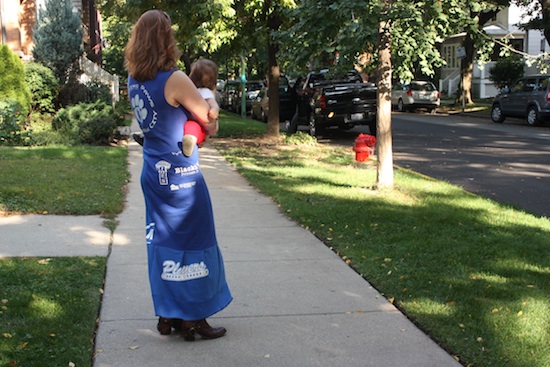 3. One-of-a-Kind Dresses from Six Two Designs
This summer at the new art festival focusing on recycled materials, Ravenswood Remix, I found Lori Horne. She makes the coolest, greenest fashion I have come across yet. Lori designs and sews clothing made out of old t-shirts. This idea could easily be executed poorly but her keen eye and sense for sewing yield some awesome dresses. I fell in love with this blue number, especially because it says Chicago Joe's on my right "cheek." What a way to wear city pride! I also coveted a handful of her black dresses with more of a rock 'n' roll feel. I wore this dress yesterday and due to its comfort level (think pajamas at work) I am dreaming of buying another. Check out her etsy store. And, if you are in Chicago, she may be able to meet you to show you are current styles.