I found out that my bloopers (of which there were many) are by far the best part about making videos. 

You may no longer be able to get your hands on stalks of rhubarb, which would make baking these muffins pretty tough. This video was made over a month ago and it took me too long to get it uploaded and posted. Now, I am afraid it is out of season.
The truth is, it wasn't just the uploading that delayed me. I have been self conscious about the videos I've been making because I see what a major dork I am when I try to "say the right thing" on camera. Making videos isn't easy!  I have decided that the bloopers actually make me feel the most comfortable. And, laughing at the mistakes and messes feels the  most like me.  Though I have given many presentations and don't feel uncomfortable in front of 1,000 people in person, the digital eye unnerves me a bit.
Because I love a challenge and feel an itch to conquer things that are hard for me, I will likely keep making videos in the hopes that it will get easier or that I will lose my inhibitions and be more like me throughout the whole video, not just during the bloopers. And whenever necessary, I will bring Mini Whipped on set as she is truly the talent of the family.
Back to the delicious muffins, which inspired the video in the first place. When we first moved into our house a few years ago, our new neighbor surprised us with this warm, rhubarb bread. I later learned that they have an enormous patch of rhubarb growing in their garden. Our second summer, the neighbors gave us some of the perennial plant to grow in our yard. We have enjoyed a few harvests but the plants are not big enough yet to yield more than a cup or so of chopped rhubarb.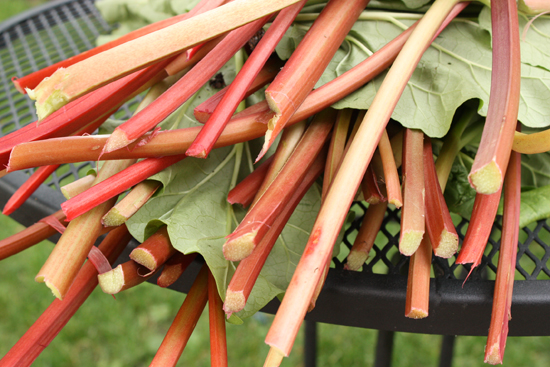 This summer, the neighbors tackled a large construction project leaving them without access to their kitchen for months. To keep their plants producing, I was invited to a massive harvest. Twice, I cut, cleaned and chopped dozens of red and green stalks. Some of it went into the freezer and the rest of it was cooked with strawberries, baked under crisp topping or stirred into muffins and breads.
For those who aren't familiar with rhubarb, it is a vegetable. Only the stalks are edible.  Eaten raw, they are so sour, you would never guess it could become a delectable treat. Baked into muffins like these, the rhubarb becomes slightly tart, moist pockets of deliciousness.
Rhubarb Streusel Muffins
2 cups flour
1 tsp baking soda
1/2 tsp salt
1/2 tsp ginger
1/4 tsp cinnamon
1/2 cup butter
1 1/4 cups brown sugar
1 egg
1 cup sour cream
1 1/2 teaspoons vanilla
2 1/2 cups rhubarb, chopped into 1/2 inch chunks
Streusel:
1/2 cup sugar
1 tsp cinnamon
1/2 cup rolled oats
2 Tbs melted butter
Preheat oven to 350 degrees. Mix flour, soda, salt, ginger and cinnamon and set aside. In a large mixing bowl, cream together butter and brown sugar. Beat in egg. Beat in flour and sour cream alternately until blended. Mix in vanilla. Stir in rhubarb chunks. Grease muffin tins and fill with batter.
For topping, mix togehter sugar, cinnamon and oats. Stir in melted butter. Sprinkle atop each muffin.
Bake for 20-22 minutes or until center just bounces back when touched.