The second book featured for the Whipped Holiday Book Extravaganza is ….
I receive food related books to review now and then. When this arrived, I was a bit surprised. I have not had much TV watching time in the past years so Nadia G had escaped me until now. My first thought when seeing the cover was that she had jumped on Guy Fieri's coattails (and I guess he doesn't mind since he wrote the foreward) with her tough stuff image.
If I was surprised by the cover, I was dumbfounded when I flipped through a few pages and found this: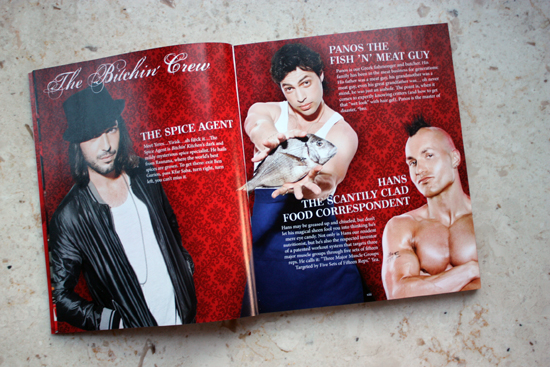 Again, I have not seen the show so perhaps there is some deep humor here that is somewhat of an inside joke for viewers and followers. My first reaction was to locate my toddler and identify if she was close enough to see the open pages. This knee jerk confirmed that I have become a bit prudish in my middle years.
As I continued to flip, I could see that a good amount of thought and effort went into the photography and design of this book, in the same way an enormous amount of work went into Clark Griswold's Christmas light display. Buried underneath the extreme persona were some recipes that piqued my interest. This mille-feuille in a whiskey glass doesn't look half bad.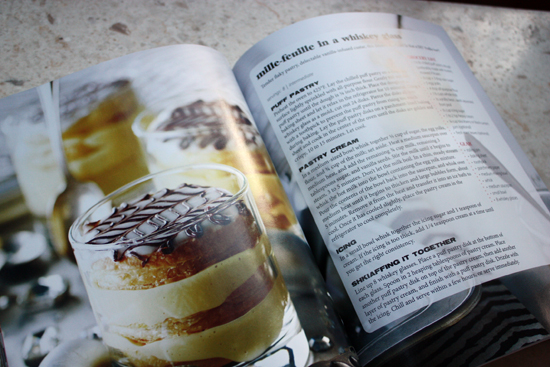 If you are a fan of Nadia G, this is your week! You could win this book. Whether you want it for the recipes, the stilletto-clad hottie or the half naked mohawk dude, you just have to leave any comment on this post to win. Next week Wednesday, I'll randomly choose one of you and send you this little gem from Nadia G's Bitchin' Kitchen.
Update 12/14: Elin won the book! Congratulations and thank you to all for your interest.