Just the sweet thing to give to the someone you are sweet on.
A few weeks ago, I jotted down a long list of Valentine's Day ideas and planned to share a number of holiday inspired projects and gifts with you over the last week. My husband and I met on Valentine's Day 15 years ago and Baby Whipped is turning 1 on Tuesday so the celebration has taken on extra meaning in our house. What fun I thought it'd be to set Whipped ablaze with red and pink, cupid-kissed goodies. Unfortunately, life got ahead of me and as is often the case, I have many more schemes than I do time for execution.
I did manage to make a batch of Valentine's Linzer cookies. Personally, I am not a major fan of jam-filled cookies but these are so visually fitting for the occasion. I have also developed a great fondness for rolling out and handling dough so the process was immensely satisfying.
Through my initial recipe research, I found a great variety of recipes. Some traditional shortbread cookies without eggs, others with eggs and added spices. I altered this recipe from epicurious by using almonds in instead of hazelnuts, adding a touch more salt and skipping the cinnamon. For the filling, I chose a Raspberry Pomegranate jam from St. Dalfour.
When I finished and plated this batch of cookies, I admired them with satisfaction. The delicate sugar dusting and heart cut-outs are so sweet. Because these cookies take a bit more effort than your average cookie (and it shows) a plate of the little beauties would be a quite a gesture for someone who has caught your eye.
A tip: Bake the top, cut out cookies on a separate sheet pan. They might need slightly less cooking. And, once they are cool, it is easy to dust them with the sugar and assemble them straight from the pan.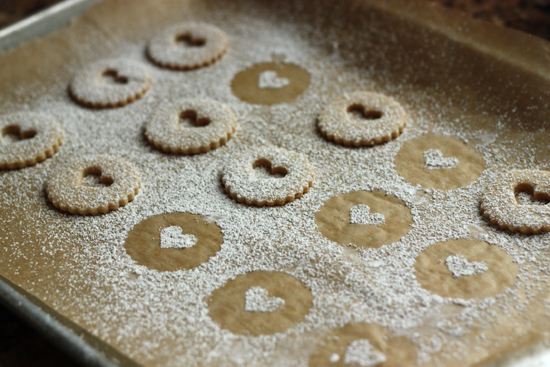 Linzer Cookies
1/2 cup blanched, slivered almonds, toasted and ground
1/2 cup packed brown sugar
2 1/2 cups all-purpose flour
1/2 teaspoon baking powder
3/4 teaspoon salt
2 sticks (1 cup) unsalted butter, softened
1 large egg
1 teaspoon vanilla
1 small jar raspberry jam (or your favorite red jam)
Confectioner's sugar, for dusting
Preheat oven to 350°F.
Toast almonds for about 3-4 minutes, until edges are turning brown. Remove and let the nuts cool. Pulse nuts in a food processor until they are finely ground.
In a small bowl, whisk together flour, baking powder, salt. Set aside.
Beat together butter and brown sugar in a large bowl with an electric mixer at medium-high speed until pale and fluffy, about 3 minutes in a stand mixer (preferably fitted with paddle) or 6 minutes with a handheld. Add nuts and beat until combined well, about 1 minute. Beat in egg and vanilla. Reduce speed to low and add flour mixture, mixing until just combined.
With floured hands, form dough into 2 balls and flatten each into a 5-inch disk. Chill disks, wrapped in plastic wrap, until firm, at least 2 hours.
Roll out 1 disk of dough to about 1/8 inch thick. Keep surface and rolling pin well floured to avoid sticking. Keep remaining dough chilled. If dough becomes too soft to roll out, rewrap in plastic and chill until firm. Cut out as many cookies as possible from dough with round cookie cutter and transfer to parchment lined baking sheets. (Tip: To keep cookies from losing form, try using a sharp, brownie spatula and wiggle it back and forth as you slide it under the cookie and then pick it up to place it on the baking sheet.)
Using smaller cutters, cut out centers from half of the cookies. Either add center cut outs to unrolled dough OR bake them as separate small cookie bites!
Bake cookies, switching position of sheets halfway through baking, until edges are golden, 10 to 15 minutes total, then transfer with a metal spatula to racks to cool completely. Make more cookies from second disk.
Once cookies have cooled, sift confectioner's sugar over the top cut-out cookies. Spread about 1 teaspoon jam on flat side of 1 solid cookie and sandwich jam with flat side of 1 cut-out cookie. Continue with remaining cookies.