My latest creation as a Spice Islands® Flavor Explorer…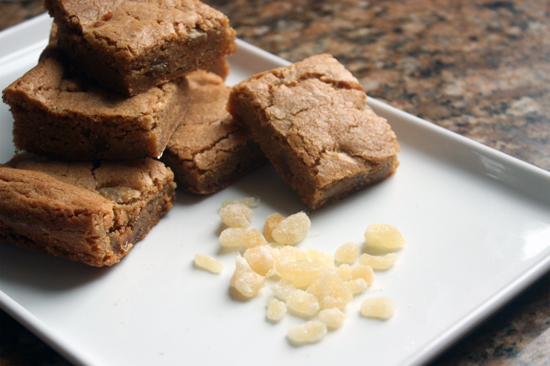 From the moment I first lined up my large collection of Spice Islands' glass jars, I was titillated by the vibrant colors and textures of the various contents within. One particular jar entranced me with its possibilities – the Spice Islands Crystallized Ginger. I left it out against my kitchen back splash with a few others that I knew would make it into my early culinary explorations.
Each day, the bottle of ginger caught my eye. With their slightly dusty finish and unique, rough shapes, the golden nuggets resemble a pile of treasure from a lucky prospector's pay dirt. My first taste of the little gems revealed a soft texture, just enough sweetness and the aromatic flavor from the Australian ginger root.
One evening while cooking dinner, my attention was inexplicably called to the jar of ginger pieces and I knew that they must find their way into a blond, cookie bar. I pulled the necessary ingredients out of the pantry, (my favorite thing about Blondies is that you almost always have ingredients on hand), and made my first batch of Ginger Blondies.
I added a sprinkling of Spice Islands Ground Ginger to the batter so that my precious, crystallized nuggets would feel more at home in their new surroundings. The finished bars delivered the buttery heaven of a Blondie, a touch of warmth from the ground ginger and an occasional surprise when you discover a piece of Spice Islands Crystallized Ginger hidden within.
Try these alongside a cup of tea or after a big meal to help quench a sweet tooth and sooth your stomach. Even if you aren't normally a ginger lover, just one bight you may catch the fever.
Click HERE for the Ginger Blondies recipe.