This new cookbook is a favorite and will likely become tattered and stained with use in the years to come.
When I receive a new book, I wait until I have some quiet time to myself before peeking inside. Then, I sit down with some scraps of paper that serve as page markers and I flip through from beginning to end. Immediately, I get a sense about how well the book fits my cooking style.
After an hour, I had barely made it through the first half of this book because I found myself reading every word, dissecting each recipe and scheming dinner parties or weeknight meals around each. Before I reached the main courses, I had run out of my pile of page markers and realized there was no sense in marking – everything looked good to me! I rarely feel this way but I think that I could cook my way through this entire book.
The author, Wini Moranville, uncovers the secrets behind every day French cooking. While reading her introduction, I had flashbacks to my student days living with a French family in Aix-en-Provence. Each night, my host mom served a number of courses, all simple yet inexplicably delicious. When I complimented her cooking, she waved me away, rolling her eyes, dismissing me with a quick exhale, "Pffff!"
At the beginning of the cookbook, Wini explains that Bonne Femme means "good wife." In reference to cooking, it describes the fresh, honest, and simple cuisine served every day in French homes (by husband or wife.) I have found the recipes in The Bonne Femme Cookbook  approachable, the ingredients easily available and the results exceptional.
I am a very visual person and when I receive a cookbook with bad photography, I can't see past it. With the prevalence of online printing and do-it-yourself cookbooks, there are more and more that make it to the shelves with poor photography. Surprisingly, I didn't even notice the lack of imagery in this book until I was well into the chapters. Instead of photography, there are occasional, sweet drawings along with side stories, French factoids and anecdotes.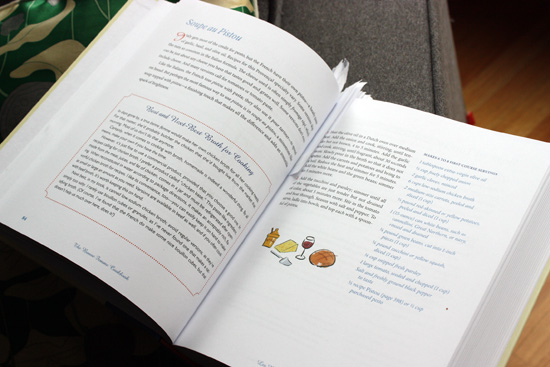 Some weeks ago, I sadly missed an opportunity to meet Wini and have my book signed. We exchanged friendly emails and I could tell that she is as lovely as her book. Wini did grant me the courtesy of asking her a few interview questions to share with you.
What are the 3 ingredients that a Bonne Femme MUST have in her pantry at all times?
Wine–it just extracts so much flavor from other ingredients and intensifies the final dish.
Butter–Truly, just a touch does so much to finish a dish with richness and flavor, and butter also intensifies other flavors in the dish.
Dijon Mustard–Love the way just a touch brings sunny brightness to a dish. It also thickens sauces without adding extra fat.
What do you normally eat for breakfast?
When I'm in France, it's all about tartine–butter and jam spread on baguette halves. I can't get enough of this! But alas, once home, it's hard to get that "daily bread" so fresh and wonderful every morning, so I'm kind of a granola girl.
What is/are your go-to table wine(s)?
I love Alsatian Rieslings, Loire Valley Sauvignon Blancs, and just about any reds from Bordeaux. All are wonderfully food friendly. For any-night sips, I also appreciate good values that Italy is sending our way, especially red blends from that combine quintessential Italian grapes (like Sangiovese) with international grapes such as Merlot and/or Cab for a best-of-both-worlds sip: Approachably fruity but with enough brightness on the finish to make them sing at the table.
If you could eat dinner tonight at any restaurant in the world, where would you dine?
While I like contemporary cuisine as much as the next foodie, tonight, because I'm seeking warmth, I'd likely head to the Brasserie Bofinger in Paris. It's a quintessential French brasserie from the 19th century—plenty of wood and belle-epoque stained glass touches–and they do a wonderful sole meunière and choucroute garnie. A trip to Paris is not complete for me unless I go to this lovely, gracious spot.
If you had to give up cheese or chocolate for the rest of your life, which would it be?
Definitely I'd give up chocolate! There are so many other wonderful ways to bring something sweet to the table–caramel, fruit desserts, custards, meringues–the list goes on. But how could you live without cheese? It's a great ingredient as well as a fabulous stand-alone treat. A cheese course is one of my favorite pleasures in life.
***
When asked if Wini will treat us to another cookbook in the future, she keeps the answer a bit close to the vest. It sounds like there might be something in the works. Culinarily speaking, she plans to continue to explore the beautiful, life-enhancing–but everyday-easy–side of France.
I am NOT giving up my copy of The Bonne Femme Cookbook but if you would like to win one of your own, simply leave a comment on this post. I will choose a winner at the end of day on Wednesday.
4/4 Update: Winner has been chosen! Thanks for your interest.