Another sweet treat from my Spice Islands Flavor Explorations. Bookmark this one with the Homemade Cinnamon Graham Crackers for your summer campfires.
Marshmallows are a happy food. They glue together Rice Krispies Treats, float in hot cocoa and perch on the end of skewers around cozy campfires. Just thinking about the sweet, cloud-like cubes and their squishy texture probably brings a little smile to your face, or at least tickles a comforting, nostalgia nerve.
My recent experimentation with graham crackers opened my eyes to just how much better homemade versions of the usual store-bought treats can be. With dozens of graham crackers around the house, my thoughts immediately jumped to marshmallows. Perhaps you have guessed where I am going with this. Imagine sandwiching homemade marshmallows between two homemade cinnamon graham crackers with a square or two of quality chocolate. S'more heaven!
If your familiarity with marshmallows is limited to the grocery store bags and you like them, I have great news for you. It can get so much better. These homemade marshmallows have natural, aromatic vanilla flavor and a much softer, springier cushion. Though these don't have the same shelf life, they also don't have the stale, crusty shell on the outside. And once you start eating them, I'm quite sure limited shelf life won't be a problem. My first batch disappeared in a matter of days.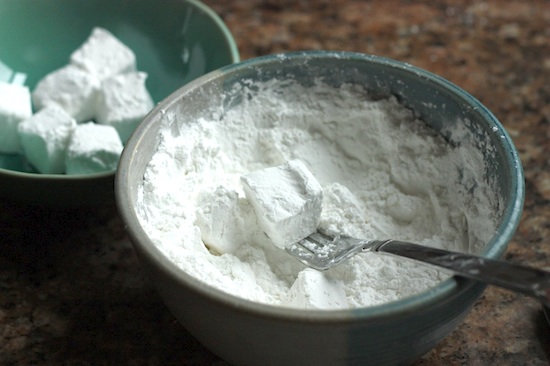 The process of making these homemade beauties takes a little time and the stringy, whipped marshmallow "batter" is a bit messy. However, I think you'll find it is worth it. These sweet, edible pillows are the stuff sweet dreams are made of.
Vanilla Marshmallows
Makes about 60 1-inch marshmallows
3 envelopes of gelatin (¼ ounces each)
½ cup cold water
2 cups sugar
2/3 cup light corn syrup
¼ cup water
¼ teaspoon kosher salt
1 1/2 teaspoons vanilla extract
½ cup powdered sugar
½ cup cornstarch
1. In the bowl of a standing mixer fitted with the paddle attachment, add the gelatin then the ½ cup cold water and stir to combine. Let the mixture sit for 10 minutes.
2. In a heavy large saucepan, combine the sugar, corn syrup, salt and ¼ cup water. Stir occasionally and bring to a rolling boil and let boil for 1 minute.
3. With the mixer running on low, slowly pour the sugar syrup into the gelatin.
4. Increase the mixer speed to high and beat for 5-6 minutes.
5. Meanwhile, line a pan with parchment paper or plastic wrap and spray with cooking spray. Use a 9 x 9 inch pan for large, 1-inch marshmallows or a 9 x 13 inch pan for smaller marshmallows.
6. Add the vanilla and beat on high for an additional 2 minutes.
7. Pour mixture into prepared pan and smooth with greased spatula.
8. Spray more parchment paper or plastic wrap or brush it with melted butter and cover the marshmallow. Pat it to smooth the top.
9. Let sit at room temperature for at least 2 hours or overnight to get firm.
10. For the dredging mixture, in a large bowl, combine the powdered sugar and the cornstarch.
11. When set, pull the sheet of marshmallow out of the pan and remove the plastic or parchment. To cut the marshmallows, grease a pair of scissors and cut into 1 –inch strips and then squares.
12. Drop the squares into the dredging mixture and toss thoroughly to coat.
13. Marshmallows will keep, tightly wrapped, up to 5 days.