I rarely do giveaways, especially not two in the same week. BUT, I hope you agree that this opportunity is worth making an exception.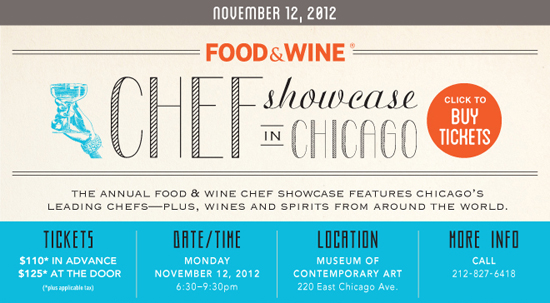 Want to join me for some sips and nibbles with some of Chicago's best chefs? I have extra tickets for the Food & Wine Chef Showcase in Chicago on Monday, November 12!
We don't go out much these days, so when we do break out of our routine, we like to whoop it up and make it a happening. This event, hosted by Food and Wine Magazine, will be one of our big events. Mr. Whipped and I are looking forward to this culinary extravaganza. And, on a Monday night!
The event, which will take place at the Museum of Contemporary Arts, will highlight Chicago's dynamic culinary scene. Chicago greats such as Stephanie Izard, Graham Elliot Bowles and Art Smith will showcase their dishes while wine and spirits from around the globe will be poured to accompany the tastings.
Thanks to event sponsor, Buitoni, I have six tickets to give away. I am going to give away three sets of two tickets. The event will take place in Chicago from 6.30pm to 9.30pm on Monday, November 12. If you are not able to attend, please do not enter to win.
Are you interested? Leave a comment on this post and three winners will be chosen on Friday at 11 a.m.!
The full list of featured restaurants and chefs:
• Acadia: Ryan McCaskey
• bellyQ: Bill Kim
• Bistronomic: Martial Noguier
• Blackbird: Paul Kahan and David Posey
• Boka and GT Fish & Oyster: Giuseppe Tentori
• The Bristol and Balena: Chris Pandel
• Cafe Spiaggia: Sarah Grueneberg and Tony Mantuano
• Girl & The Goat: Stephanie Izard
• Graham Elliot, Grahamwich, and g.e.b.: Graham Elliot Bowles and Merlin Verrier
• Hot Chocolate: Mindy Segal
• Moto and iNG: Homaro Cantu
• Nightwood: Jason Vincent
• North Pond: Bruce Sherman
• Province: Randy Zweiban
• The Publican: Brian Huston
• The Purple Pig: Jimmy Bannos Sr. and Jimmy Bannos Jr.
• Rustic House and Gemini Bistro: Jason Paskewitz
• Sepia: Andrew Zimmerman
• Slurping Turtle: Takashi Yagihashi
• Table Fifty-Two: Art Smith and Rey Villalobos
• Vie and Perennial Virant: Paul Virant