I am late in reporting about our escapades at Monday evening's Food & Wine Chef Showcase event! Oh, how I wish I could have brought more of you with me!
When it comes to Food & Wine events, apparently it is not fashionable to be late. We arrived about 20 minutes after the the event kicked off, and throngs of people dressed to the nines were lined up and spilling out the doors of the Chicago Museum of Contemporary Art.
We met our guests at the ticket will call, grabbed a wine glass from the hundreds displayed elegantly on an enormous table and giddily climbed up a spiral staircase that led us to the main exhibit area.
A huge buzz and overall excited energy filled the room. Hundreds of foodies were ready to pounce on the delectable treats prepared by Chicago's finest chefs and wash them down with many wines from all corners of the world. What made the evening unique was that in most cases, the food was actually prepared and served by the notable chefs themselves. I am not one to be star struck by Hollywood types but I must admit I was humbled to be offered delectable masterpieces straight from the hands of Paul Kahan, Art Smith, Stephanie Izard and dozens more.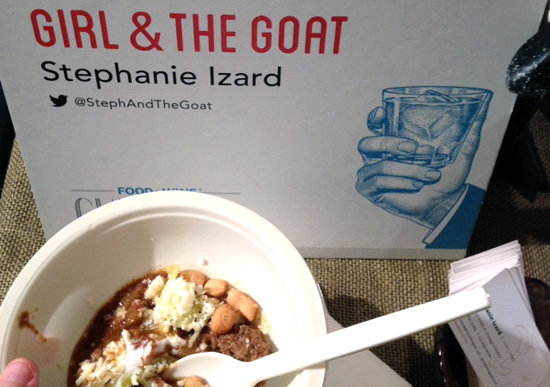 Fall flavors were well represented and rich bites filled our tummies: heavy meats, foie gras, squash, cranberries and truffle oil. After many food tastings and wine samples, we made our way to the back of the room where we discovered our benefactor, Buitoni. We enjoyed some tasty ravioli and though Buitoni was there as a sponsor alongside such notable chefs, their offerings held their own at this high level culinary affair.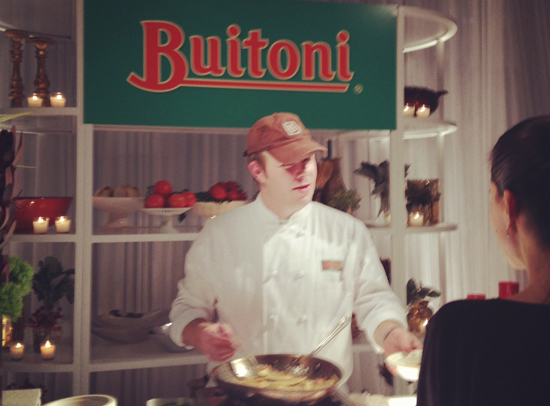 Every spectacle needs its side show. Tucked in the back of the room,the chef Homaro Cantu of Moto and iNG generated the most chatter and laughs. They served carbonated grapes alongside edible Parmesan flavored packing peanuts that had been dipped in liquid nitrogen. I sometimes find it hard to decide whether molecular gastronomy is amazing or gimmicky. In this case, I give high points for entertainment as we all were hysterical watching clouds of liquid nitrogen induced smoke burst from our mouths and noses.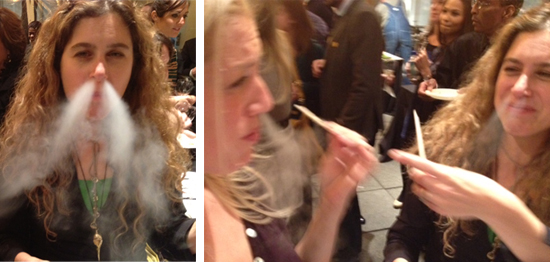 Again, I'm sorry I couldn't bring more of you to this phenomenal evening. It is safe to say that this was the best Monday night I have experienced in recent memory. Next year, even if I don't receive complimentary tickets, I just may save my pennies and make it an annual treat.
Photo credit: Thanks to Mitch for sharing some of his awesome photos.