My clever pal Ebony, of Snow & Graham, has been making delightful videos this season sharing easy, DIY holiday projects. This recent video was born from a little collaboration we schemed up based on our mutual admiration for decadent and delicious treats. While musing about cocoa and achieving the perfect blend of bitter, sweet and salty, we decided to concoct a cocoa mix of our own. Ebony then took the gifting experience to a new level, devising these clever individual, paper-wrapped cups.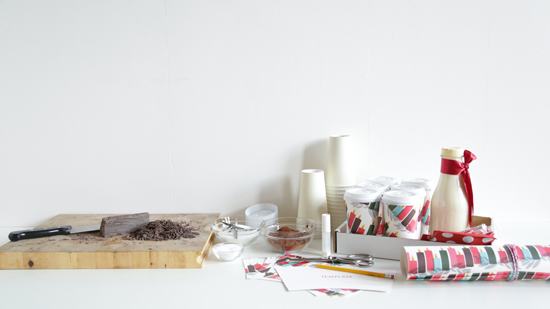 I made some vanilla sugar, bought large hunks of quality chocolate and high end cocoa powder and began experimenting with hot chocolate recipes. Luckily, I have enough eager volunteers in my household to help with the taste testing. The resulting recipe is simple but made with high quality ingredients, it will be unlike your average cup of drinking chocolate.
Below, I've explained how to make the individual cup servings. Click here for Ebony's template to create the paper-wrapped cups. I've also offered a recipe for a larger batch that makes 8 servings. You could package the larger batch in a fun vessel for holiday gifts. I love these Weck canning jars from Kauffman Mercantile.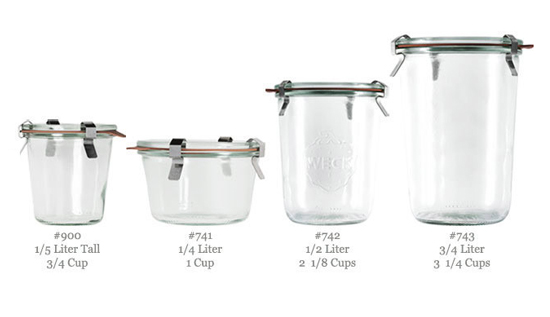 If you are REALLY feeling generous, you might want to pair your cocoa mix with a bag of  homemade Vanilla Marshmallows. And, don't forget to include serving instructions! Each serving of homemade hot chocolate mix should be combined with 8 ounces of hot milk. See instructions below. To attach instructions to your gifts, choose one of Snow & Graham's Tiny Cards, punch a hole in the corner, and tie it on with some baker's twine.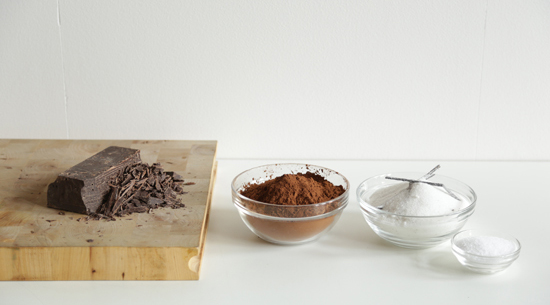 Homemade Hot Chocolate Mix
Makes about 8 servings
Ingredients:
1 cup (about 8 ounces) chopped dark chocolate (try Valrohna or Callebaut)
1/2 cup vanilla sugar, see below (or use regular white sugar)
1/2 cup cocoa powder (try Valrohna or another high quality cocoa powder)
1 teaspoon kosher salt
For individual servings:
Add each ingredient directly into cups or small bags for individual servings.
For each serving:
2 Tablespoons chopped, dark chocolate
1 Tablespoon cocoa powder
1 Tablespoon vanilla sugar
1 pinch of kosher salt
For a large container that holds 8 servings:
Combine all ingredients in a bowl and gently stir with a whisk to incorporate everything.
Put the homemade hot chocolate mix in a vessel for gifting or store in your pantry for the winter!
Serving Instructions:
Combine 1/4 cup of Hot Chocolate Mix with 8 ounces of hot milk. Stir until the chocolate melts.
Top with whipped cream or marshmallows if you like.
How to Make Vanilla Sugar:
1 whole vanilla bean
2 cups granulated sugar
Put sugar in a bowl. Slice the vanilla bean lengthwise and scrape out the insides with a knife. Put the small seeds in the bowl with the sugar. Stir with a whisk to combine until the small black seeds are evenly mixed with the sugar. Put the sugar in an airtight container. Press the vanilla pod into the middle (this will give some extra flavor and aroma). Let the sugar sit for at least 48 hours or ideally, up to 2 weeks. Remove the pod before using.