Try chewy, homemade granola bars for school snack day or keep some stashed in the freezer.
I feel like I am coming out of semi-retirement. For those who are still reading, thank you for your interest in my blog despite my rare "appearances." I'm hoping that a few life changes I have recently put in place will free up some time and allow me to post more often. I miss cooking, using my camera, posting and hearing from you!
Every winter, I am reminded how hard it is to capture decent photos when the daylight has disappeared before I get home from work. A few worthy recipes have been withheld due to this winter photography handicap.
I first made these granola bars when I signed up to deliver a school snack. The preschoolers were venturing out on a field trip and needed something to eat on the bus. True to form, I skipped the simple solution of buying something from the store (which the majority of the kids would have preferred) and instead, I stubbornly created a time consuming project. Luckily, it was a joint venture with Mini Whipped who perfected the art of the parchment wrap and twist.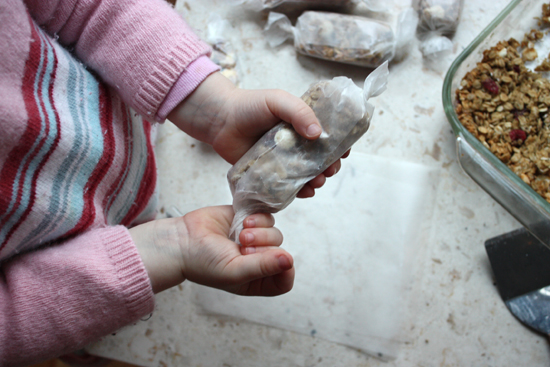 Since the school outing, I have experimented with a few different recipes. I like the combination of tart cranberries with sweet, white chocolate. And, we've all voted that chewier, soft granola bars are the way to go for our family. I found that if wrapped in plastic wrap, the bars freeze well. So, consider doubling the batch and keeping extras on hand.
Feel free to get creative and mix up the sweet stuff inside. If cranberries and white chocolate aren't your thing, add nuts, chocolate chips or other goodies.
Cranberry White Chocolate Granola Bars
Makes about 14 bars
Adapted from Mom's Big Book of Baking
3/4 cup old-fashioned oats
1/4 cup sunflower seeds
1/2 cup whole wheat flour
1/2 teaspoon baking powder
1/4 teaspoon salt
1/2 teaspoon ground cinnamon
1/2 cup canola oil
1/3 cup firmly packed brown sugar
1 egg
1 teaspoon vanilla extract
1/3 cup white chocolate chips
1/3 cup dried cranberries
Preheat the oven to 350 degrees. Grease an 8 inch square baking dish. Spread the oats and sunflower seeds on a cookie sheet and bake about 10 minutes until slightly toasted, stirring once. Remove the pan and let oats cool completely.
Combine flour, baking powder, salt and cinnamon in a smal bowl. In another bowl, combine the oil and brown sugar and stir until smooth. Stir int he egg and vanilla. Stir the flour mixture until just combined. Stir int he oat mixture until combined.
Stir in the cranberries and white chocolate chips. Press the mixture into the greased baking pan. Bake for about 25 minutes.
Remove the bars from oven and let them cool completely. Cut the bars and use a sharp spatula to remove them. Wrap in plastic wrap or keep in a ziplock back or airtight container for up to 5 days. Or, wrap individually in plastic wrap and store them in the freezer.