Who is ready to get their grill on with a little barbecue?!
Thank you Myron Mixon. Thank you for being the catalyst that finally pushed me over the edge to skip the shortcut crockpot pork shoulder and smoke the meat on the grill. I did a bit of research and from what I can tell,  Myron Mixon is this barbecue king's given name. I'm not sure he had a choice about being famous. That fantastic name was destined for big things.
(Side thought: I am so intrigued with names and their fit with personas and careers. Growing up, the man who professionally cleaned the windows on our house each spring was named Mr. Glass. Perhaps a multi-generational business, I wonder if there was a simpler time before guidance counselors and personality tests when people let their names guide the way when the choice seemed evident?)
As for Myron Mixon's rise to fame, he has been called the "winningest man in barbecue" thanks to  over 200 grand championships resulting in over 1900 total trophies as well as over 40 state championships. To get additional flavor about this top hog, click here and make sure you have your speakers turned on. I think I would like this guy. He is scheduled to be in Chicago July 12-14 for the inaugural Windy City Smokeout. If I'm lucky, someone important will read this and invite me to have my book signed by the king himself. Come on Myron, let's jam out together and get messy with some BBQ!
At the front of Everyday Barbecue is a series of recipes: The Only Marinade You Need, The Only Barbecue Rub You Need and The Only Barbecue Sauce You Need (on the opposite page of The Only Other Barbecue Sauce You Need.) It seemed like the right place to start. We bought a beautiful pork shoulder at a local butcher, marinated it for a day, rubbed it down and smoked it for five hours. We have a gas grill so we followed Myron's instructions, making wood chip "burritos" to rest atop the heat leaving the meat on an aluminum pan in indirect heat.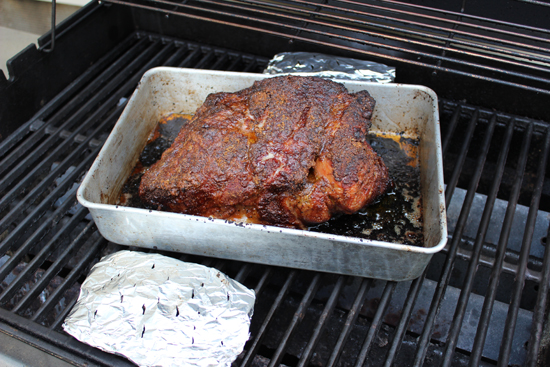 It was a long process. And it was worth it. The flavor and texture of the pork was far superior to my usual crockpot endeavor. We enjoyed BBQ pork sandwiches for two nights. I froze some of the leftover meat to use in tacos later this week.
I must admit that the barbeque sauce recipe was one that I won't make again. It was the consistency of tomato paste whereas I prefer more of a thick but runny sauce with a touch more vinegar bite. But, I can't blame Myron as BBQ sauces preferences are almost as personal as coffee drinking habits. There is a lot of variety and I don't consider any one right or wrong.
Later chapters of this book feature sandwiches, salads, side dishes and even desserts. If you would like to win a copy of this book, leave a comment on this post by June 30 about your barbecue preferences, your favorite barbecue recipe or the best barbecue you ever ate. I'll randomly choose a winner on July 1st.
7/1/13 This giveaway is closed. Congratulations to the winner, Alina.