An unexpected gift of ground lamb inspired my first lamb burger experimentation.
Because I work with people in the food industry, I've developed friendships that have tasty benefits. After work sessions or photo shoots, I've found myself with hundreds of spices, pounds of chocolate or dozens of bags of coffee. Yes, I know, tough job.
My friend Kathy is a multi-talented chef, advertising executive, world traveler, and blogger. Every time we connect, she has a new adventure to report from teaching cooking classes in Provence to recipe testing for famous chefs. Kathy is almost never empty handed. She bestows unbelievable, unexpected treats from miniature cookies to dozens of vanilla beans to a box full of paczkis. Though I've become accostomed to her generosity, I was still floored by her most recent offering.
When Kathy jumped in to my car to head to a lunch date, she held up a bag filled with unidentifiable red-ish blocks wrapped in plastic. "I brought you four pounds of lamb. I ground it myself!"  Of course she did. Kathy had been at a photoshoot for a meat consultant where they were working on posters explaining butchery methods. Due to my affinity for Greek food, Kathy knew I could made use of the lamb.
Moussaka was the obvious choice but without time for the meticulous process one weeknight evening, I searched recipes for lamb burgers. I stumbled on this recipe from our favorite spiky-haired celebrity chef, Ann Burrell, and liked the idea of all the fresh dill and mint.  I'm not always keen on the strong lamb flavor and thought that the herbs and citrus would lighten it up.
Though I altered Anne's recipe a touch making it simpler and faster,  I used it as a guide and was thrilled with the result. The burgers tasted like delectable restaurant fare. They would also be nice as sliders at a party.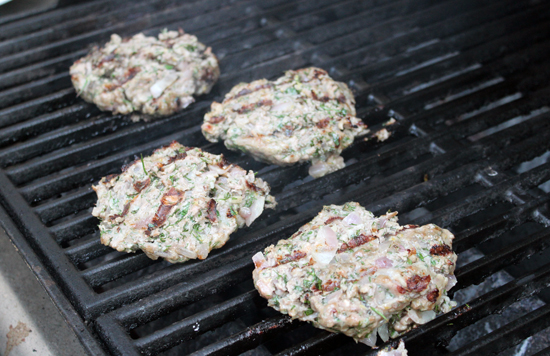 I've made these two more times since the original batch and have served them to guests. Even if you don't love lamb, you might find, like I did, that you want to add them to your repertoire to offer a little twist on the usual burgers. Horiatiki would be a nice accompaniment. And, if you really want to go Greek, tackle this sinful dessert.
Lamb Burgers with Feta Spread
Serves 4
2 Tablespoons extra-virgin olive oil
1 red onion, diced
2 cloves garlic, finely smashed
1 pounds ground lamb
1/2 cup, finely chopped fresh dill
1/4 cup finely chopped fresh mint
2 teaspoon dried Greek oregano
Zest of 1/2 lemon
1 1/2 teaspoons salt
For Serving:
4 hamburger buns
Feta Spread – 1 cup plain, Greek yogurt combined with 1/2 cup crumbled feta cheese
For Garnish – tomato and red onion slices
Heat olive oil in a medium pan, cook onions for 2 minutes over medium-high heat. Add garlic and cook another 2 minutes. Remove from heat and set aside.
In a mixing bowl, combine the lamb, the onion mixture, herbs lemon zest and 1/2 cup water. Sprinkle with salt and combine well. Shape into 4 patties.
Grill burgers on medium high heat for about 3-4 minutes per side or to desired doneness. Remove the burgers and let them rest while you prepare the buns. Add a large dollop of feta spread to each and top with desired fixings.