An exercise in turning yourself into a spread of delicious edibles. What does it look like?
An article in the current Martha Stewart Living magazine caught my eye. Inside the table of contents, the teaser reads:
"Quite a Spread: The cheese board is as close to a self-portrait as some of us get at Martha Stewart Living. Six editors, including Martha, create their perfect cheese boards: bountiful palettes of creamy, nutty, crumbly, stinky, and sweet."
I love games like Would You Rather and 20 Questions. I could spend all night asking silly things that help me get to know someone. The idea of cheese board as alter ego is right up my alley. With the permission of Martha Stewart's "people," I've included a few of their editors selections and gorgeous photos to get you in the mood. Get ready to name your cheeses!
Lucinda, the executive editorial director, named her board "All-American Midnight Snack." She was raised in the Midwest and returned to her roots taking inspiration from Wisconsin – the great American cheese state. I love her addition of brats and their typical fixings.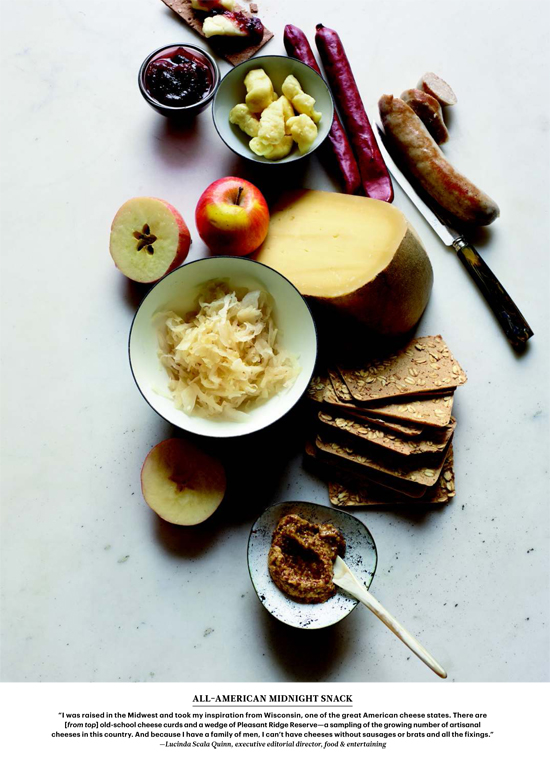 Ayesha, the style director's Mediterranean Breakfast had me salivating. She builds her breakfast around a hunk of feta cheese. That's my kinda gal. Fresh herbs, bread, eggs, figs, honey, and cucumber. Oh, and did I mention the espresso? Nice work Ayesha. I'll be waiting for my breakfast invitation. See you at your place.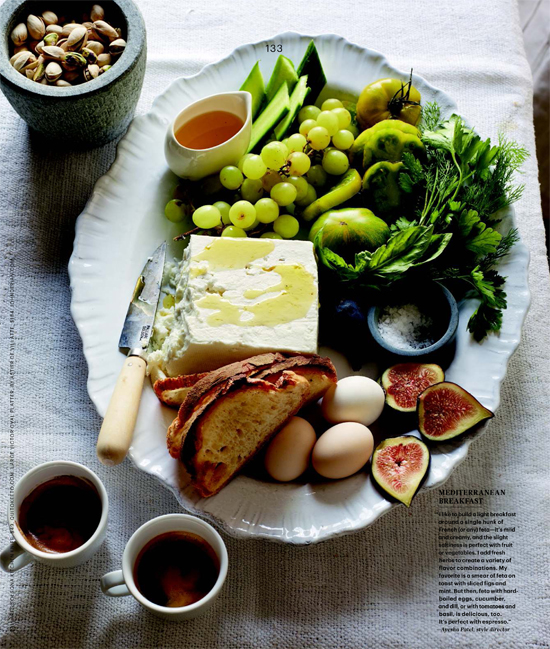 Though it's hard for me to turn away from cakes, cookies and pies, I wouldn't pout if Pilar, the editor in chief, served me her Savory Dessert. Lucky woman grew up with a mother who put a spread like this out after every meal. A selection of cheese with dried fruit, dark chocolate and a glass of Moscato d'Asti. Beautiful endnote indeed!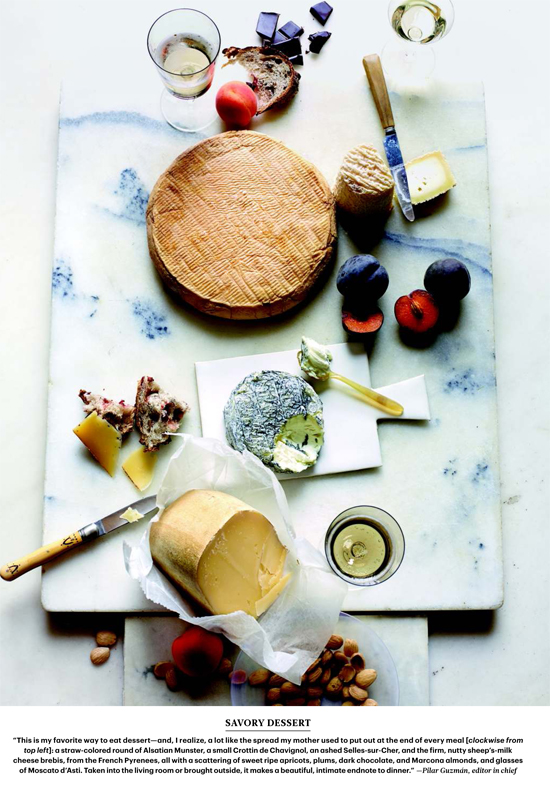 Okay, I'll take my turn. What would my cheese board look like? I've been thinking about it for days. I keep waffling between themes and arguing in my head over which one to choose. Finally, I've decided on a bit of a smorgasbord that represents the different cuisines and cultures in my life. The funny thing is that though I am a combination of all the places I plan to represent, I've actually never thought of combining these flavors in one place. The "Caroline Cheese Board" consists of:
Gouda. My grandparents had a Dutch import business and when we visited my grandpa would cut the red wax off a wheel of gouda for us to enjoy. Though people want me to be Irish (see cheddar below), I have mostly Dutch heritage. My husband grew up in the Netherlands and while living there with him for a year, I learned to appreciate all the heavenly cheese. My favorite is the medium aged, semi-firm variety.
Kefalotyri and Fresh Figs. My husband is also half Greek and we visit my father-in-law's native island of Corfu regularly. Kefalotyri is a hard,  salty, sheep's milk cheese that I love. I had never been overly fond of figs before visiting my inlaws house and plucking them straight from the tree.  Just thinking about these two indulgences conjures images of the deep, blue sea and the aroma of olive tree scented air.
Sharp Irish Cheddar. I'm not Irish but boy, do people wish I was. Because of my red hair and freckles, I get extra attention on St. Patrick's Day. People raise their glasses to me and grab my shoulder with a squeeze as if it is my special day. I love sharp cheddar cheese so I'm adding it to my plate to represent my honorary Irish-ness.
Fresh, Creamy Goat Cheese. I am a city girl but I often dream of being a country girl. A family friend runs a goat farm in Iowa and when I visit, I often feel like I could move there and never look back. My cheese board needs something soft and mild so I included this one to represent my inner farm girl.
Dried Michigan Cherries. I grew up in the bottom left of the mitten state. Plump, dried Michigan cherries…. no others like 'em.
Freshly Baked French Baguette. I studied in Aix-en-Provence for a semester in college. Though there are many glorious, gastronomic memories, I often dream of the hot baguettes and the aroma when you break into the crisp crust.
Taleggio Cheese, Walnut, Dark Chocolate Truffles. I've worked with chocolate for so many years and Katrina, the owner of Vosges Haut-Chocolat has convinced me that cheese and chocolate are perfect mates. Her Rooster truffle is one of my all time favorites. This addition represents my work self.
So, there you have it. Now, it's your turn! Pull up a chair to my virtual table and tell me… if YOU were a cheese board, what would it look like?!
To read more of the Martha Stewart Living selections and to find what Martha herself chose, pick up a copy of the magazine with this cover in the next week. Thank you to her team for the inspiration and for letting me share the photos!