This Valentine's Day, consider serving a luscious, sip-able dessert.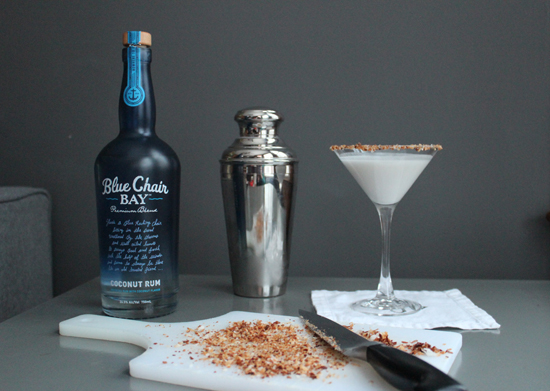 Most of the United States has experienced extreme weather this winter. Born and raised in Michigan, I have never minded snow and cold. But, I must admit that this Chicago winter is testing my coping skills. I recently heard on the radio that last year at this time, we'd had 9 inches of snow. This year, we have already had over 60 inches. Our entrance way is a constantly slopped with snow sludge and boots, snow pants and mittens are strewn across the floor. Ice cycles the size of my toddler are hanging off the gutters of our old house and the furnace is having trouble keeping up.
When I received an email from the folks at Blue Chair Bay Rum with descriptors of the island lifestyle and a promise of tropical flavors, my nostalgia for warmth insisted that I pay attention. They offered me an opportunity to try their rum and create a new cocktail for Valentine's Day. I was further intrigued to learn that Blue Chair Bay Rum was inspired by Kenney Chesney. Though I am not familiar with his music and don't listen to much country, the whole project piqued my interest because it was such a departure from my day-to-day reality.  I decided to play along with the hopes of a momentary, gustatory reprieve from this icy winter.
As a lover of all things coconut, I chose to try the Blue Chair Bay Coconut Rum. For our New Year's Eve celebration just over a month ago, I made an amazing triple coconut cream pie. It became the inspiration for my cocktail experimentations. My husband has always been a fan of coconut macaroons so we poured, played and sipped ingredients until we had something we felt was just right.  Our Coconut Macaroon Martini is full of coconut flavor and creamy with some added texture from the toasted coconut that rims the glass.
Consider substituting traditional dessert with this sip-able option or serving a shot glass of the Coconut Macaroon Martini alongside a slice of chocolate cake. Close your eyes and imagine your toes pressed deep into hot sand, and the sound of tropical music wafting towards you with a light breeze. By the time you reach the end of your drink, you may find it even easier to transport yourself to to the tropics, if even for a moment.
*Giveaway Closed – Congratulations Jane*
RUM GIVEAWAY: I almost forgot to mention the most important part! One of you will WIN a full bottle of Blue Chair Bay Rum. You can choose traditional, coconut or spiced rum. For a chance to win, LIKE the Whipped Facebook page here and leave any comment on this post (share Valentine's Day plans if you want!)  On Thursday morning at 10 a.m. CST, I'll randomly choose a winner.  To win, you must be 21 years of age and live in the United States.
Find more recipes on the Blue Chair Bay Rum Facebook page here.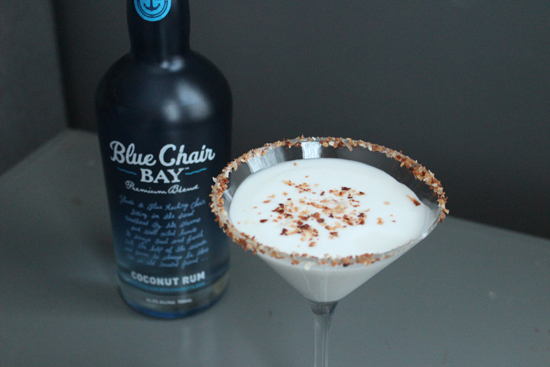 Coconut Macaroon Martini
makes 1 martini
1 ounce Blue Chair Bay Coconut Rum
1 ounce vodka
1/2 ounce vanilla simple syrup
2 ounces coconut milk
toasted, sweetened coconut for the rim
To toast coconut flakes, put them in a skillet over medium heat. Stir until most of them are golden brown. Remove from the pan immediately. Once the coconut cools, chop into fine pieces for rimming the glass. Wet the rim of the glass with coconut milk and then press the rim onto the coconut flakes to coat.  Pour the Blue Chair Bay Coconut Rum, vodka, vanilla syrup, and coconut milk into a martini shaker with ice. Shake for a minute and then pour into the the glass. Serve immediately.
Vanilla Syrup Recipe
1 1/2 cups sugar
1 cup water
1 vanilla bean
Heat water and sugar over medium heat until it boils and sugar is dissolved. Split vanilla bean lengthwise and put it in a large jar or heat proof container. Pour the syrup over the vanilla bean and let sit overnight. Keep in the refrigerator for up to 2 weeks.
Quick method with vanilla extract: Once sugar is dissolved in water, remove from heat and stir in 1 teaspoon of pure vanilla extract. Let cool.