This weekend, Chicago's Green City Market opens outside! Make the pilgrimage to this food mecca – you will not be disappointed.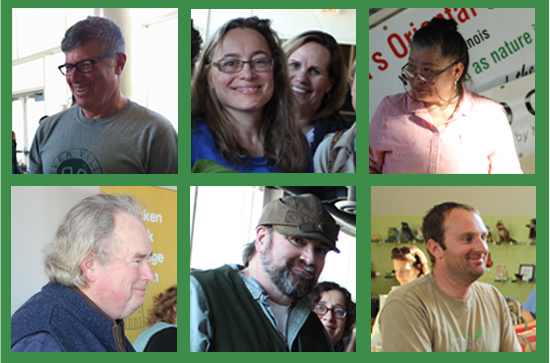 In the recent past, I have had less time and energy to devote to blogging. Over the years, it seems that every time my resolve to keep it up wanes, I am offered an opportunity, I make a connection, or I enjoy an experience that reminds me why the food blogging community is such an important part of my life.
Some weeks ago, I was invited to visit the Green City Market in Chicago along with a few notable chefs to shop for fresh ingredients and then join them as they cook a few recipes from the new Green City Market cookbook. I excitedly agreed and when the day arrived I drove towards Lincoln Park with anticipation – cash in my pockets and my empty canvas market bag slung over my shoulder.
The market experience and the following cooking demonstration and photography session were more inspiring and rewarding than I could have imagined. I received an amazing tour of the market along with introductions to a number of the farmers and food artisans. When reflecting on the experience and what fueled my excitement about it, I realized that the food impressed but it was the people of the market that kept filling my thoughts.
My mind has made its own memory reel of short clips. The quiet mushroom farmer of River Valley Ranch and Kitchens smiled softly as he patiently answered my naïve questions about how one grows mushrooms.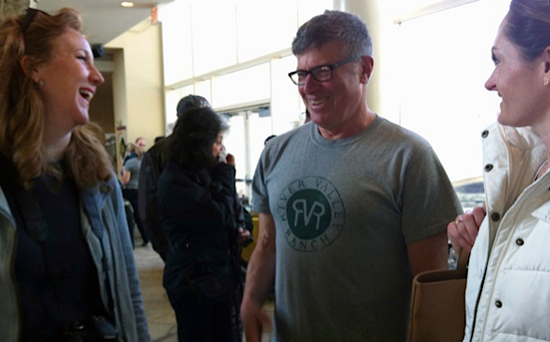 Tim Burton of Burton's Maplewood Farm (primarily sells maple syrup) explained with such animation how he came to sell spring ramps as he encouraged me to try a bite and offered recipe suggestions for the sought after spring vegetable.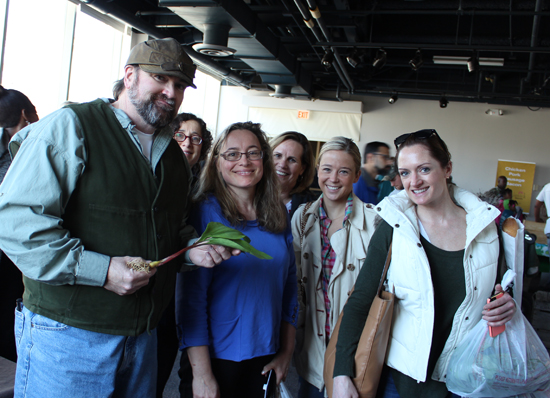 Tracey Vowell of Three Sisters exuded admirable confidence as she generously placed her oats in my hand promising they would be the best I ever tasted.  I was amazed to overhear the jovial rapport between a farmer and Chef Molly Johnson of Limelight Catering as they discussed a possible sale of up to 100 pounds (!!) of basil.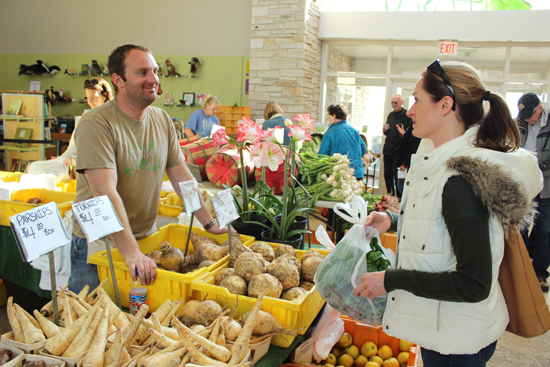 It didn't seem like coincidence that the sun highlighted Orianna's Oriental Orchard as both Orianna and her edible wares seemed to have a special energy to them. She clipped pieces of homemade fruit leather and listened carefully as market goers offered thoughts on what additional flavors could enhance her recipe.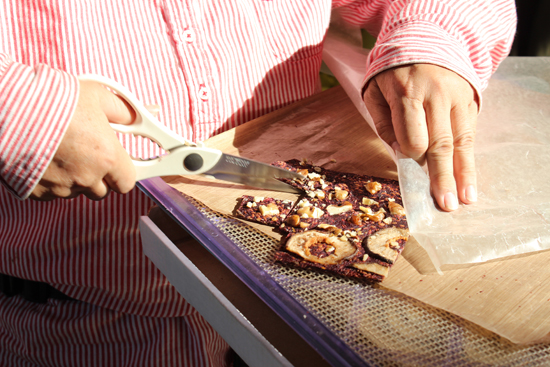 You get the idea. The Green City Market is a special place.
As we toured the market, Chef Sarah Stegner of Prairie Grass Cafe and Chef Molly Johnson of Limelight Catering shopped for ingredients to make a few of the recipes from the soon to be released Green City Market Cookbook. They explained how to substitute fresh, in-season ingredients for others, choosing the local foods at the height of the their flavor. I was reminded just how much of a "home cook" I am, in awe of their knowledge of food and cooking.
The following Monday, our group was hosted by Chris and Nancy Cassidy at their photo studio. I lurked, questioned and tasted alongside the two talented chefs as they created a polenta dish and strata. Once again, I was humbled by the skill and taste buds of the professionals. I became even more of a believer in the BEST ingredients as I sampled the mushrooms,greens, bread and grains that were purchased from the market.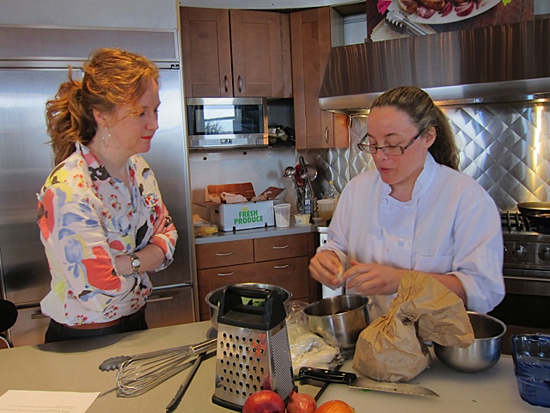 Before we dug in to the prepared dishes, they were shuttled to Chris and Nancy, masters of photography (especially food) so that they could capture their deliciousness.  Chris taught me the secret of his coined "bite zone" – his ability to identify the place in the dish with the most alluring bite, which he exercises with great skill as he takes food photos.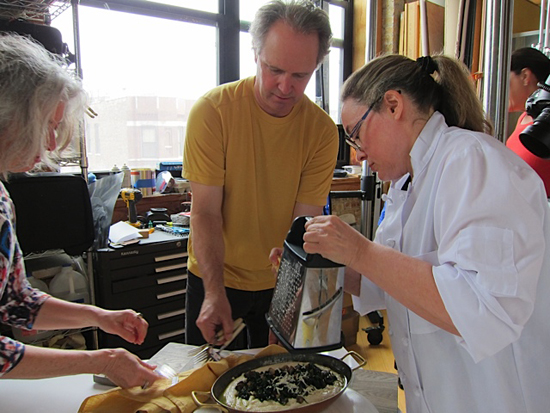 So often, I write posts about food experiences and wish that all of you could have been there. I have good news this time – you CAN enjoy a similar experience! This weekend, for the opening of the outdoor Green City Market, you can go on a shopping tour with the chefs and then join them for cooking demonstrations. Find details below.
If you can't make it this weekend, some time this summer, I recommend that Chicagoans and visitors make the trip to the Green City Market. Ogle at the fresh produce, dairy, meats and breads and treat your taste buds to delectable prepared foods. During your visit, I encourage you to take a moment to look beyond the edibles and appreciate the unbelievable community that is the true treasure of this unique place –  the farmers who have dedicated their lives to difficult but rewarding work, the food artisans who exude passion for the best foods and your fellow market goers whose appreciation keeps the Green City Market alive.
GREEN CITY MARKETING OPENING DAY FESTIVITIES:
§ Chef demos featuring Sarah Stegner (Prairie Grass Cafe) and Carrie Nahabedian (Naha and Brindille). Sarah and Carrie will be cooking with wild watercress, ramps, slow cooked bacon and whatever is at its best at the market.
§ Club Sprouts Tent, in partnership with The Kid's Table, providing cooking demonstrations and tips on encouraging children to eat thoughtfully.
§ Edible Garden demo, Jeanne Nolan will be demonstrating how to have a happy and healthy container garden in the city.
§ Chef BBQ tickets go on sale. It isn't too soon to pick up tickets to Green City Market's Chef BBQ on July 17th, Chicago's hottest foodie extravaganza! Visit here for details.
§ Green City Market Cookbook, "Great Recipes from Chicago's Award-Winning Farmers Market" pre-sale. Visit here to order.
When: Saturday, May 3, 2014
7:00a.m. – 1:00 p.m.
8:00 a.m.: Club Sprouts Tent Opens
9:30 a.m.: Join Sarah and Carrie as they shop the market for fresh produce for their cooking demo at 10:30
9:30-10:15 a.m.: Edible Gardens Demo at the Chef Demonstration Tent
10:30 a.m.: Chef Demonstration tent featuring Sarah Stegner (Prairie Grass Cafe) and Carrie Nahabedian (Naha and Brindille)
Where: South End of Lincoln Park between Clark and Stockton Drive