And, recipes for a Thai Ginger Cooler and Ginger Lychee Martini. Perfect summer sipping.
Please VOTE! I'm a finalist. You can vote for my infusion on the Prairie Organics Facebook page by clicking like on the post about my creation here. 
I've always been intrigued by infusions. Though the concept is simple, it feels a bit magical that you can put something delicious in liquid and even if removed, its essence or flavor is forever imparted. From my experience with chocolate, I have marveled at spice-infused cream that creates intoxicating chocolate truffles. Fresh herbs can completely alter oils while berries bring aromatic sweetness to vinegar.  What feels like a patient, delicate process brings about such powerful flavor transformation.
When Prairie Organic Vodka asked if I was interested in experimenting with vodka infusions, I jumped at the chance. I love their message and idea to skip the overly processed or chemical-flavored infusions offered by some brands and create your own natural flavor profiles.
The folks of Prairie Vodka are used to processes that take patience and yield outstanding results.  Prairie Vodka is a seed-to-glass, handcrafted organic vodka created by three family farmers in Benson, Minnesota. Each family works in their field up to three times longer than conventional farmers, cultivating the nutrient-rich soil and organic corn that goes into their flavorful spirit.
These farmers' diligence, dedication, and commitment to sustainability are pretty amazing. It takes them three years to prepare each field. That's three seasons before they can plant one single vintage organic corn seed. This patient process is what allows the soil to cleanse itself from any contaminants and to regenerate its nutrient base. Once the fields are ready, they plant a 25-foot buffer crop to ensure that chemicals from neighboring farms don't contaminate their own.
When I first received the Vodka (along with a cucumber vodka and Prairie Gin) I was hoping that it would taste as good as I wanted it to taste. I love the story of this company and hoped to be as enthusiastic about the product. I was – and I am! Their creations are smooth and flavorful and though I know this is less important – I love the packaging.
My original ideas for infusing the vodka were all over the place as I schemed spiced drinks with pink peppercorns or chiles and then focused on the spring garden with combinations of fresh herbs or rhubarb. One night, while eating Thai food prepared by a dear family friend, I settled on the plan to use the aromatic flavors from Asia. The different ingredients in thai soups are so variant (kaffir lime, lemon grass, coconut, hot chilies, ginger) but all work so well together.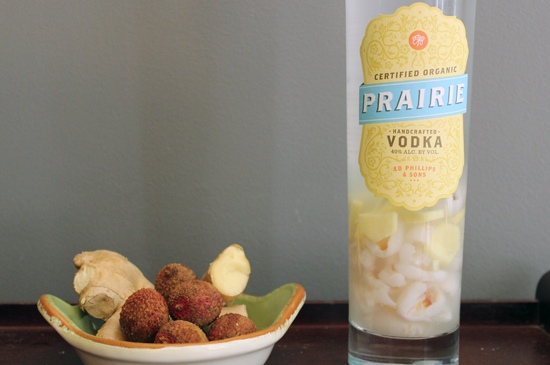 After a few experimentations, I decided that lychee was key to offering a touch of sweetness and floral aroma. This sweet and flavorful fruit looks like a raspberry but tastes like a combination of grapes, strawberries, and watermelon. It is actually native of China, not Thailand, but I knew it could play nicely with the other Asian flavors. Ginger adds warmth and a nice little back of the throat bite, which I love paired with the sweetness of the fruit.  The other Thai flavors are combined when crafting my final cocktail, the Lychee Ginger Thai Cooler.
After trying your first infusion, I predict you'll be hungry to experiment with trying more!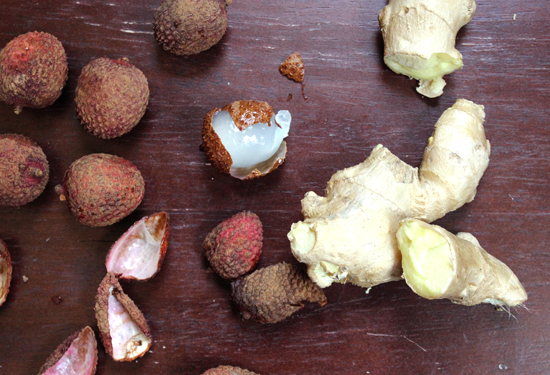 How to Make Ginger Lychee Vodka
1 bottle of Prairie Organic Vodka
10 fresh lychee fruit (or canned if you can't find fresh fruit)
2 inch piece of ginger root, peeled and sliced
Remove the outer skin of the lychee fruit and cut the pit out of the center. Pour about a cup of vodka out of the bottle to make room for the other ingredients. Save it to use at another time. Drop the fruit and the ginger into the vodka. Let the vodka infuse for 7 days or more.
Thai Ginger Cooler
2 ounces Ginger Lychee Vodka
3/4 ounce (1 1/2 Tablespoons) simple syrup
3/4 ounce (1 1/2 Tablespoons) lime juice
Sparkling water (plain or lime flavored)
1 lime wedge
1 stalk of lemongrass
1 sprig of Thai basil
In a cocktail shaker, combine the first three ingredients with a few cubes of ice. Shake for a minute. Pour into a tall glass over ice. Top with sparkling water. Add lime wedge and stir with the stalk of lemongrass. Garnish with a sprig of basil.
Ginger Lychee Martini
Pour 3 ounces ginger lychee vodka into a martini shaker with ice. Shake vigorously until very cold. Strain into a martini glass and garnish with 2-3 lychee fruit. If you prefer sweeter martini, use 2 1/2 punches vodka and 1/2 ounce simple syrup.