Read on to learn how you can win this beautiful book, which includes recipes but also reads as a cultural culinary adventure.
Though I dream of a life where I have the time to gather obscure ingredients, purchase new equipment and design a space in my basement to cure freshly crafted sausages, this book is most likely to live on my coffee table. And, it is worthy of such placement. Jeffrey Weiss has written a notably unique book for the American readership; Charcutería is a detailed exploration of the traditional meat-curing and butchering techniques from the Iberian peninsula. Though Spain is often third to Italy and France when it comes to it's reputation for cured meats, Weiss hopes to honor the true craftsmen of Spain as chefs who have earned a noted spot among the other greats of Europe. Weiss dives deep into the history, culture, and methodology of the Iberian peninsula's traditional charcuterie, complete with recipes, gorgeous photographs, and whimsical illustrations. A more personal exploration is also found as Weiss interviews Spanish butchers whose traditions have been passed down through generations, as well as shares with his readers his conversations with top Spanish chefs who bring their perspective to bear on charcutería.
There is so much to learn from this book that goes beyond the kitchen. As noted by Weiss, one of his most influential motivations for writing this book was to communicate the incredible story that Spain and Spaniards tell through their cuisine and culture. Weiss was kind enough to entertain a few questions: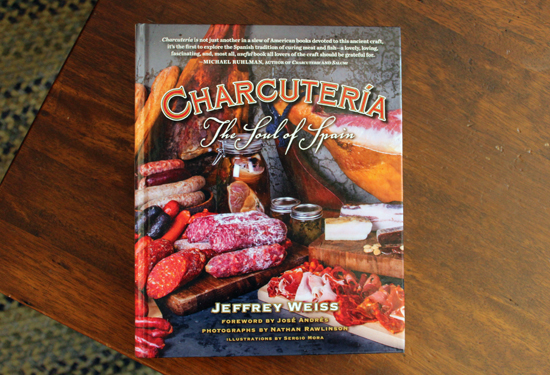 How did the idea for this book come about? I was cooking at The Breslin with Chef April Bloomfield in New York when I first thought of writing a book about Spanish charcuterie. They do killer terrines there—it takes serious attention to detail when making any terrine, let alone all five that come on their terrine board—and I really respected the craftsmanship. I got to talking with the guys who do the restaurant's charcuterie and it turned out that they had never really heard about the sorts of charcutería that I saw in Spain. So, the thought occurred to me that these were some of the top guys in New York making charcuterie (hence, some of the top guys in the US), and they haven't really heard of morcillas, chorizos, and the other stuff I've seen—someone should write a book about that.
What do you think are the main differences between the Spanish charcutería traditions and the better-known (in America) French and Italian traditions? On a basic scale, most of the world's charcuterie is similar—it's all meat + salt + time. The difference from the Spanish perspective, at least as I have come to understand it, is all about cojones—the Spanish flavors for charcutería are very bold and full of pimentón and garlic, whereas much of the French/Italian charcuterie (with a few exceptions, of course) tend more toward softer/sweeter Medici spices like allspice, nutmeg, and others. Read on to learn how you can win this beautiful book, which is not only filled with recipes but equal parts cultural adventure tale.
What makes Spanish-style charcutería so special? From my perspective, charcutería is especially important since it is so intrinsically linked to Spanish culture and history. Cured meats like chorizo and jamón are a Spanish cultural reference—they are foods that have sustained entire generations during times of war and upheaval. Historically, even the pig itself has come to mean many things for Spaniards—political banner, symbol of prosperity, and even rallying point.
You just opened a new restaurant, jeninni kitchen + wine bar, in northern California. How have you incorporated what you learned in Spain into the restaurant's offerings? Much of what we do at jeninni is absolutely informed by the culinary and cultural spirit that I saw in my travels of Spain. Specifically, the restaurant focuses on the food of the southern Mediterranean—meaning Andalucía, Morocco, Tunisia, and other countries of the region. The food of this area, like much of what I saw in Toledo, Marbella, and beyond, definitely has influences from the Moorish conquests, so there are a lot of the flavors we identify with. As an example, some of the mainstays on our menu are the pate de higado de pollo (chicken liver pate), membrillo (quince paste), and various encurtidos (pickled vegetables)—with, of course, many more recipes to come including mojama (cured tuna loin) and various embutidos (sausages).
HOW TO WIN THIS BOOK: If you are a lover of Spanish things, a meat lover, a meat aficionado or even an appreciator of beautiful books, you will be happy to win a copy of Charcutería: The Soul of Spain. Leave a comment on this post by Friday, August 22 at noon for a chance to win a copy.
p.s. For those who want to try Spanish recipes or need Spanish ingredients, you can get them here from my friends at La Tienda
UPDATE: THIS GIVEAWAY IS CLOSED. Thank you for reading