This is my attempt at "healthier" pumpkin muffins. Don't roll your eyes, dark chocolate is good for you!
I've already seen Halloween costumes in stores so it's just a matter of time until all things pumpkin spice invade the culinary scene. I've always been a pumpkin lover and I'm fighting to keep the marketing powers-that-be from ruining it for me. I'm hoping that last fall, the craze reached the top of its curve and it can now slide down to its former place as a welcome fall flavor featured in appropriate places.
Once the satire starts, it usually means we are nearing the end: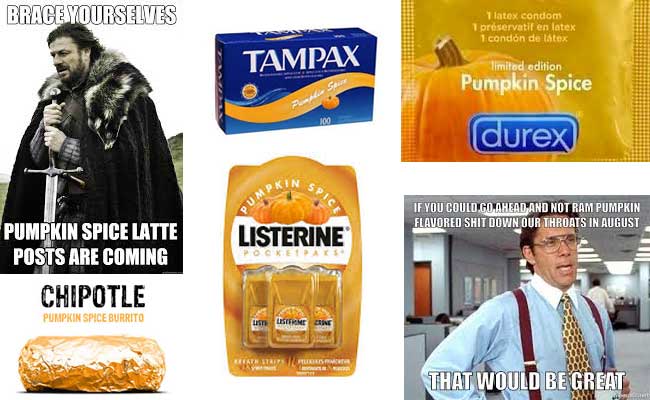 While rooting through my pantry, I found an old can of pumpkin from last year. I decided to incorporate it into a muffin recipe. Lately, I've been adjusting all of my muffin and sweet bread recipes. Little-by-little I've experimented with increased whole wheat flour and grains and reduced sugar and fats. The kids haven't noticed and I feel better about giving them something that is less like a cupcake and has a little more nutritional value. These muffins freeze well and you can take a few out the night before to pack in lunches or serve as after school snacks.
Let the pumpkin baking begin…
Oatmeal Pumpkin Muffins with Chocolate Chips
Makes 12 muffins
1 1/2 cups old-fashioned oats
1/4 cup low-fat milk
1 1/2 cups whole-wheat flour
1 teaspoon salt
1 teaspoon baking powder
1/2 teaspoon baking soda
2 teaspoons pumpkin pie spice
1/2 cup brown sugar
1/4 cup molasses (can substitute an extra 1/4 brown sugar)
1 15-oz canned pureed pumpkin
1 teaspoon vanilla extract
1/4 cup canola oil
Two large eggs, lightly beaten.
1/2 cup dark chocolate chips
Preheat the oven to 350 degrees. Grease a 12 muffin tin pan or line with paper liners.
Put the oats and milk in a bowl and set aside letting the oats soak for at least 10 minutes to soften.
In another bowl combine flour, salt, baking powder, baking soda and pumpkin pie spice. Stir to combine. To the oatmeal and milk mixture, add the brown sugar, molasses, pumpkin puree, vanilla, canola oil and eggs.
Stir everything with a wooden spoon, just until combined – don't over mix, just stir until everything is incorporated. Stir in the dark chocolate chips.
Fill the muffin cups about 3/4 full with the batter. Bake for 20 minutes or until set so that the top center of the muffins bounce back when touched. Let cool for at least 10 minutes in the pan. Remove from pan and cool the rest of the way on a rack.
These moist muffins last for a few days in an airtight container. You can also freeze them in ziplock bags.