Like Natasha Macaller, the author of Vanilla Table, most of us can remember our first memories associated with vanilla. The intoxicating aroma is one of the most universally pleasing  scents and is often tied to delicious baked goods and cozy homes.
As a child, our spice cabinet held a brown bottle of imitation vanilla, which was quite universally used at the time. Though I always appreciated the scent and flavor of vanilla, I clearly remember when I graduated to a true understanding of its wonders.
Newly employed at Vosges Haut-Chocolat, 14 years ago, I found one of the kitchen helpers slicing shriveled brown pods lengthwise and carefully scraping out the dirt-like brown innards. She added the scrapings to a food processor with white sugar and pulsed until well combined before emptying the contents onto a growing heap in a white plastic bin the size of a trash can. This tedious process was the first step of crafting Katrina's hot chocolate mix, which included homemade vanilla sugar.
Later, when I began managing purchasing, I learned that the meager looking bag of Tahitian vanilla bean pods in the kitchen was worth hundreds of dollars.  You only had to stand in the kitchen a few moments while they sliced and scraped them to understand why. The tropical, sweet aroma that filled the air was truly intoxicating with the power to arrest your thoughts and captivate entirely.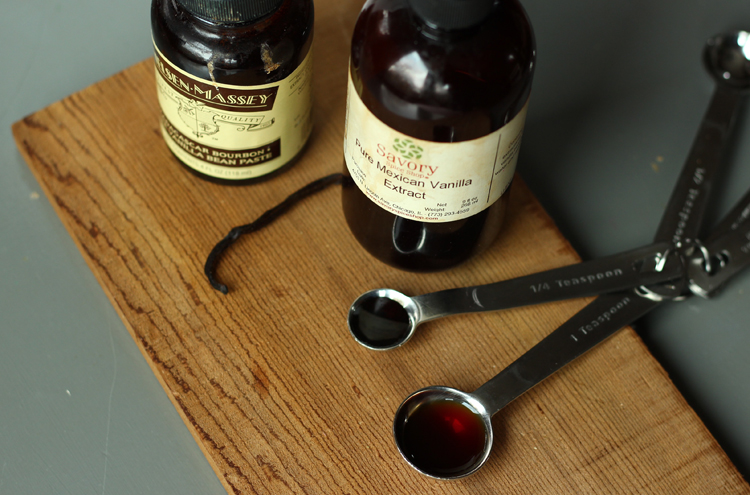 Though I don't always keep fresh vanilla beans in my own kitchen, I always have a few varieties of pure vanilla extract and paste. I've grown particularly fond of Nielsen Massey's Madagascar Bourbon Pure Vanilla Bean Paste. You can see the small black specs suspended in the paste, which transfer to your creations leaving a visual guarantee of the quality vanilla within.
When I was introduced to Natasha's new book, Vanilla Table, I was immediately draw to the beauty and simplicity of the cover design. It felt bold and yet appropriate to place the less than handsome, glorious pods alone on the cover. Inside, I quickly realized that there was no shortage of mouthwatering food photography to drool over.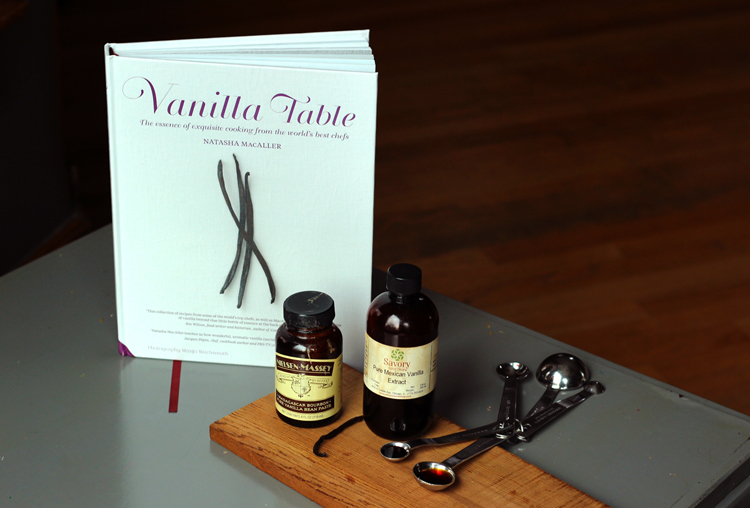 Secondly, I was drawn to the idea of vanilla as a savory season. A large portion of the book is dedicated to starters and main plates from Seared Scallops with Vanilla Parsnip Puree to a decadently creamy Chicken Stroganoff with Chanterelles and Vanilla. The recipe range is wide, in part because Natasha collaborated with over 30 chefs to compile the recipes in her gorgeous homage to vanilla.
Finally, my adoration for this book was sealed by Natasha's heartfelt personal story at the beginning. She had a first career as a professional ballet dancer! I always wonder what different paths dancers or performers take when their bodies can no longer endure. In Natasha's case, she found her way to a traveling culinary career. Since I often marvel at the extremely slight physique of ballet dancers, I was tickled at the idea of a woman who hung up her last pair of toe shoes and began cooking for a living.
I was lucky that the author was willing to entertain a few of my interview questions. And, her publisher is kind enough to send one of you a copy of this gorgeous hard cover book! It would make a beautiful holiday gift for foodies on your nice list.
GIVEAWAY CLOSED: For a chance to win a copy of Vanilla Table, leave a comment sharing a memory you have associated with vanilla or your favorite vanilla recipe! I'll chose a random winner at noon on Friday, December 11th.
INTERVIEW with author, Natasha Macaller:
Your book piqued my interest with the idea of using vanilla in savory dishes. It's so pigeonholed as an accompaniment to sweet things. Which do you prefer? Is your palate more of a savory or a sweet?
A very surprising secret is that most chefs who make sweet desserts, pastries, ice cream and breads, tend to prefer and eat savoury food. In sweet things where vanilla is an ever-present component, I try to use sugar as a seasoning rather than a main ingredient, creating that balance of sweet and savoury. Including vanilla to savoury dishes is a magical and delicious addition. Vanilla adds a depth of flavor that is captivating and comforting all at the same time!
What is your ultimate comfort food?
Depends on the season, but always simple comfort food, right now it's Chicken Stroganoff with Chanterelles & Vanilla, and piping hot Slow-cooked Oxtail Pot Pies with Vanilla-Shriaz Gravy.
At our restaurant, Sausal my go to are warmed maple glazed spiced pear & thyme scones and Chef Anne's chicken posole soup-clears those sinuses right out!
Sounds like you travel quite a bit. Where is one of your favorite places in the world to visit?
One of the most friendly and beautiful places I visit is New Zealand, it is an amazing location for chefs to visit and create. The abundance of beautiful native herbs, spices, fruit, veg, fish and all grass fed livestock, (not to mention wine, manuka honey and locally roasted and brewed coffee) is a culinary playground!
I love your unique story about being a dancer turned chef. How do you involve dance in your life today?
One has those uncontrollable moments twirling about the restaurant kitchen interpreting bits of "Swan Lake" and "Phantom" though not quite as "turned out" as in the past! Staying in touch with former dancers, yoga and taking the occasional barre, or watching a ballet keeps us all connected. It will always be part of who we are even when one can only imagine completing that perfect triple pirouette. The creativity and discipline as a chef-also a performing arts career-keeps the joy alive.
Would you rather give up cheese or chocolate for the rest of your life?
That is a very tough choice. Neither really, but I would have to choose to give up cheese…as long as that doesn't include butter! The butter story is After School Cookies and Milk.
Thank you-this was fun!
Natasha MacAller
www.dancingchef.net