My first encounters with Mexican food were at large restaurants in the 1980s that specialized in what I call "sloppy Mexican." They featured large oval platters with slightly upturned edges to keep the slop of brown beans and heap of dry, orange rice from spilling off the edges. On the other side of the dish sat an enormous wet burrito or some soggy enchiladas. Possibly, a small heap of shredded iceberg lettuce added some color anchored by a dollop of sour cream.
At home, we didn't eat Mexican much as my Dad was a meat and potatoes kind of guy. But, now and then my Mom treated the kids to crunchy taco shells filled with seasoned meat and shredded cheese. I loved them, except for when the base of the shell cracked and the brightly seasoned meat grease would drip down my wrist.
In highschool, my first job was at a  restaurant called Hot Tamale. It was there that I first tasted somewhat fresh southwestern food. We made our own beans and sauces and filled burritos with freshly chopped lettuce and tomatoes. I had my first whiff of fresh cilantro and the enjoyed the heavenly taste of fresh guacamole.
In Chicago, we are fortunate to have fantastic Mexican food from small taco shops, to big trendy taquerias and of course, Rick Bayless' famous empire built on teaching us the true flavors of Mexican cuisine. We also have our share of "sloppy Mexican" restaurants and I admit we still visit a neighborhood favorite now and then when we feel like we need endless baskets of chips and margaritas the size of a kiddie pools.
Enchiladas have always been my Mexican dish of choice. I make this quickie version of Enchiladas Verde for family dinners but have never experimented much further with enchilada recipes. I was thrilled to discover this new cookbook, Enchiladas – From Aztec to Tex Mex by Cappy Lawton and Chris Waters Dunn, to further my repertoire. The beautiful paper cover drew me in immediately (see interview below for more info) and as soon as I turned it back, I was captivated.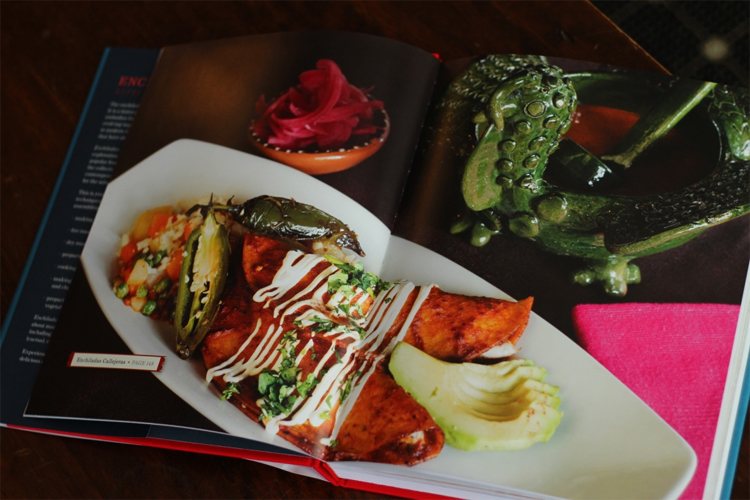 This beautifully designed cookbook is filled with vibrant images showcasing colorful sauces, pretty garnishes and fresh ingredients. Sloppy Mexican, be gone! This is where it's at. My mouth was watering from one section to the next. Often, I bookmark pages of new books to help decide what to make first but in this case, I stopped trying to choose favorites early. I could honestly cook my way from front cover to back.
Luckily, one of the authors was kind enough to answer a few of my interview questions, including a recommendation on which recipe to try first! (see below)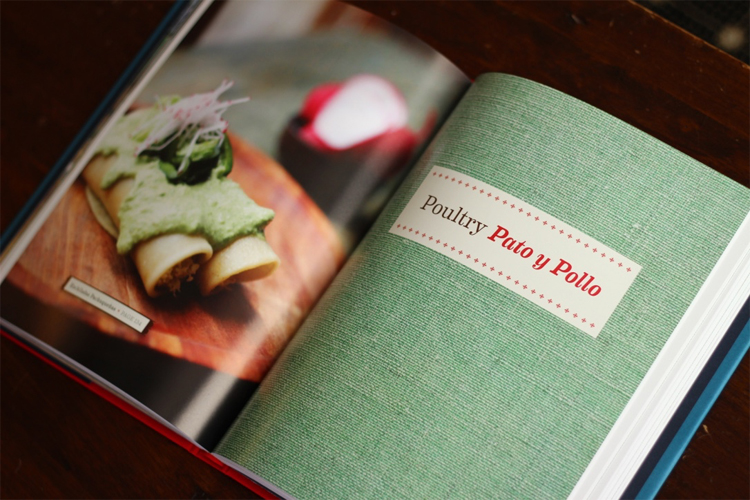 If you are a lover of enchiladas, an aficionado of Mexican food, or a collector of beautiful books, I would highly suggest this new homage to enchiladas. It is a refreshing and unique book that manages to focus on one particular dish with a great creativity and range.
I enjoy learning about the journeys authors take when creating books. Not only do I appreciate this beautiful book, I like the fellas who made it. You can watch videos about the author's here to get a taste of their style. And, even better, enjoy the interview below with Chris Waters Dunn, who had a former, impressive music career before turning to a second career in food. We are lucky he did.
Interview with Chris Water Dunn, one of the book's authors.
What is one, or a few, of your favorite beer or wines that you drink with enchiladas?
Mexican beer has a natural affinity with pork and beef enchiladas, because the sweet/bitter flavor contrasts with the richness of the fillings and the spicier sauces. As far as brands, I like everything from a Negra Modelo to a Tecate or Pacifico, depending on what I'm eating. A crisp white wine, like a Sauvignon Blanc, is a great match with lobster, shrimp, and seafood enchiladas. And believe it or not, a German Riesling is perfect with the spicier versions. Margaritas? Well, they're just downright dangerous. At least, that's what I've read…
The cover design is beautiful and less traditional for a cookbook. Can you tell us a bit about the pattern?
We wanted a cover design that would be as eye-catching twenty years from now as it is today. So rather than use a photo, we chose a patterned design that is hopefully timeless. The actual pattern is influenced by Spanish Colonial style and Mexican Talavera tile and was suggested by our graphic designer, Andrea Caillouet.
If you had to recommend one or two recipes in the book to make first, which would you suggest? (or is it like asking you to choose a favorite child?!)
Without hesitation I would say 'Enfrijoladas al Estilo Oaxaca" and Iliana de la Vega's version of "Enchiladas Suizas." They are historic recipes that are simple to make and delicious.
What is one of your can't-live-without cooking tools?
You can't make Mexican food without a good comal (cast iron griddle). And it also helps to have a really good blender—just like the Aztecs would have used. Of course, I'm kidding. Nothing beats a traditional enchilada sauce ground to a velvety smoothness by hand on stone, but for those times you don't have several hours to grind chiles and spices, a good blender helps.