(keep reading for giveaway details)
Early spring feels like an appropriate day to celebrate a man who makes the most of Mother Nature's bounty. I love books and am regularly wowed by the talent and dedication of those who create beautiful specimens. But, it has been awhile since I was so surprised and inspired by an author's culinary creativity.
Matthew Biancaniello seems like part chef,  part artist and part mad scientist. Perhaps because he is self-trained, he has forged a new path into the world of mixology. Never before have I come across cocktails that so heavily overlap with culinary creations.  Inspired by trips to the farmer's market, Matthew makes his own syrups, mixes and fresh garnishes. Like many artists, his work seems all encompassing and more of a passion than a job. He even formed his own bee colony to produce wild honey for his concoctions!
Eat Your Drink, Culinary Cocktails is divided into traditional menu sections including Amuse-Bouche, First Course, Second Course, Main Course, Dessert and After Dinner. A peek inside the book reveals the gorgeous photography and smart typesetting.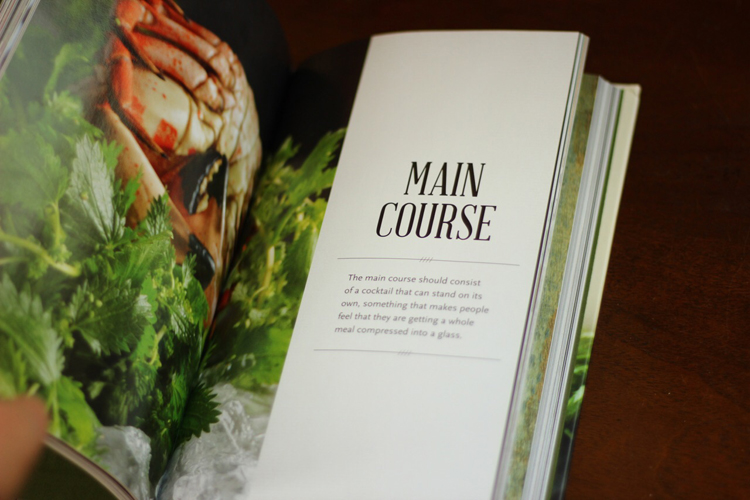 I sat down and began flipping through the pages and refused to be disturbed before the back cover closed. Wowed by the imagery, flavor combinations and detailed instructions, just reading this book took me on an unexpected culinary journey without a drop or a morsel passing my lips.
We've all seen Bloody Mary's speared with celery, olives and even crispy sticks of bacon. Many of Matthew's drinks go far beyond with full chunks of produce and large sprigs of greens. However, the inclusions are never without purpose nor for shock value. Each recipe is extremely thoughtful and each ingredient plays its part is the overall orchestra of flavor.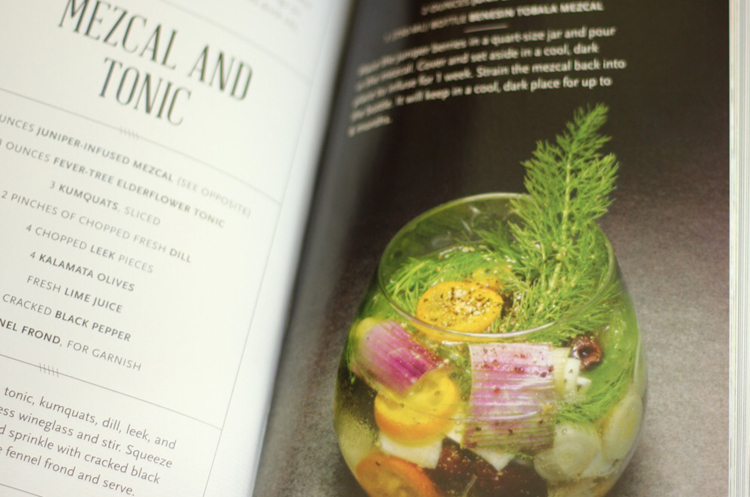 Usually cocktails serve as a prologue or an epilogue to a meal or create pleasant background music for your food. Matthew has pushed cocktails to center stage. When paired with food, they are a more equal and active companion. My mind has been opened to the idea of cocktail pairings that offer more than just flavor but also visual stimuli, exciting texture, and a celebration of the bounty of the season.
I don't expect to be smoking persimmons or making my own siracha any time soon. Some recipes are more accessible than others though often substitutions could be made. I won't likely tackle many recipes in this book though I expect to reference it often.  I credit the work of Matthew Biancaniello for helping me access a new vein of creativity and seeing cocktails in a new, expansive light.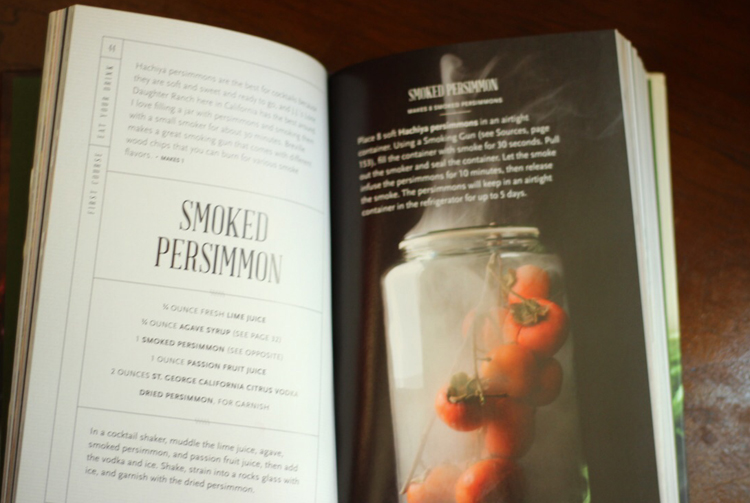 GIVEAWAY! 3 WAYS TO WIN
(Update: Giveaway now closed. Thank you! Congratulations to Brenda, the winner)
I'll be giving away 3 copies of this outrageously exciting cocktail book on Friday, April 8th. Hedge your bets with 3 ways to win…
Leave a comment below telling me what your favorite cocktail is. One commenter will win.
Visit Facebook here and like and share the giveaway post.
Follow Whipped on Instagram and tag a friend you wish you could share a drink with.
INTERVEW WITH MATTHEW:
Many thanks to Matthew for taking the time to answer a few of my questions.
Is there a particular spring herb or food item that has captured your palate this season?
Lisa Cherimoyas, making a gazpacho with them to go on top of my alcoholic oysters!
Where do you go or what do you do for inspiration?
Nature, Ocean, Mountains and Farmers Market
What do you eat for breakfast?
Scrambled eggs on toast with avocado and almond butter, green tea
What is your "can't live without" bar tool (or two)?
OXO Muddler and ISI Cream charger