Keep reading for the giveaway details!
If there ever was a cookbook infused with someone's personality, it's this one. On the colorful cover, Lucy Buffett's hand-on-hip stance, sassy smile and confident gaze almost dare you to not to flip back the cover for a good time. As she says in the forward, this book is more of a visit to her kitchen than a traditional cookbook. I wished that I was holding a tropical cocktail complete with an umbrella while Lucy walked me through the pages.
Previously published as Crazy Sista Cooking, this new edition is named for LuLu's restaurant and vacation destination. You'll be impressed by her story and how a mid life venture turned into a good-time empire, all centered around food.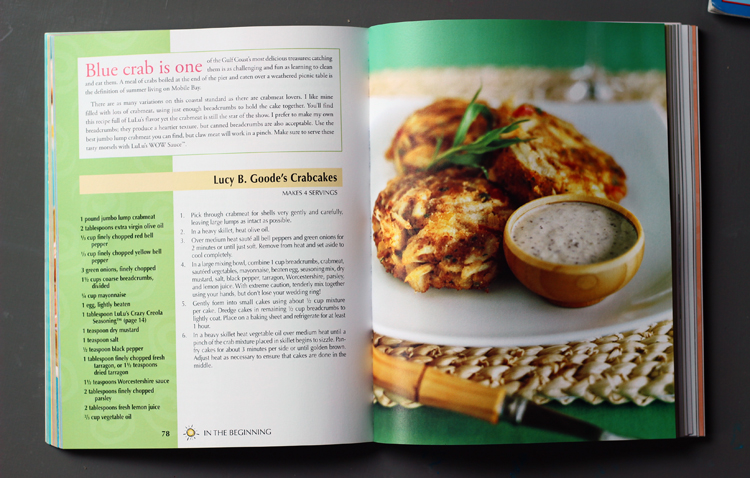 The inside of LuLu's cookbook is as colorful as her character. Each turn of a page brings a new burst of color, pattern, palm trees and photos. Normally, I am partial to clean design and a "less is more" approach but this cacophony of stimulation is perfect for this book's personality. It reminds me of those busy, neon colored t-shirts you buy on spring break to remember your barefoot meal at a local joint.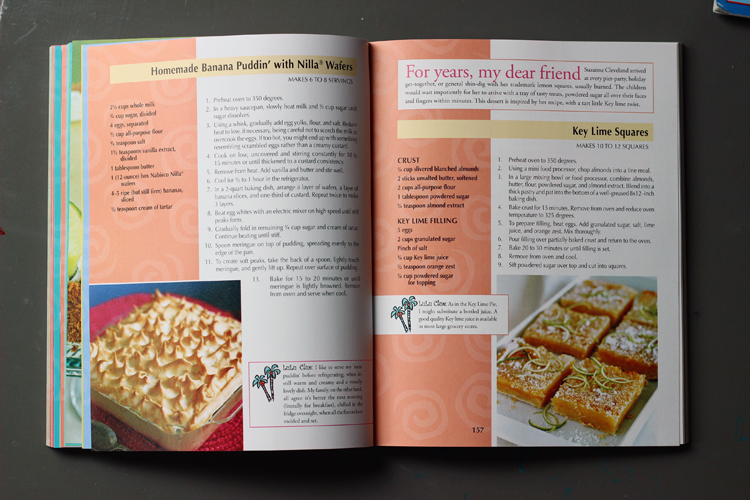 Near the beginning of the book, you'll find an extensive collection of specialty drinks including 7 different variations of margaritas. (Perhaps this is the Margaritaville that Lucy's brother, Jimmy Buffett, sings about?) As you continue through the chapters of starters, deep south soups, sassy salads, sandwiches, and sweet things, you'll find many southern favorites including gumbo, crab cakes and plenty of other seafood dishes. I am anxious to try Lucy's Key Lime Pie and Red Velvet Cake recipes, two of my favorites!
As a northerner, I'm not well versed in the flavors of southern cooking. For that reason, I'm especially appreciative of the chapter called LuLu's Essentials. It's a collection of spice mixes, marinades, and stocks. With these building blocks, I think I'll be able to start serving up southern cooking out of my Chicago kitchen in no time.
To learn more about Lucy Buffett, visit her website here. Or, watch this recent interview on Fox News.
BOOK GIVEAWAY (Closed! Congrats to Karen W): For a chance to win this book, Leave a comment telling us your favorite tropical cocktail or your favorite southern food. I'll randomly choose a winner on Friday, May 20th.
INTERVIEW WITH THE AUTHOR
Lucy Buffett, the author, was kind enough to answer a few Whipped interview questions. Thank you Lucy!!!
For those who visit your restaurant, what is your "do not miss" item on the menu that you suggest?
The seafood gumbo is my signature dish and it's as close to how your mama made it as it can be. If you are a meat eater, it is our specialty "Pa-menna" Cheeseburger with my homemade Pimento cheese, bacon and fried green tomatoes. It's out of this world. But if you're there for our wonderful Gulf seafood, I would definitely recommend our fried crab claws! And if you're not inclined toward fried food, I"d definitely get our fresh Gulf Snapper and have it grilled and served in our fish tacos.
What is one of your favorite kitchen tools that you could never live without?
My cutting board and chef's knife – top of the list. I've paired down my tools to the basics: a good set of stainless steel cookware, a set of stainless utensils, a set of wooden spoons, a set of stainless steel mixing bowls, basic pyrex casserole dishes and a bunch of small what I call prep bowls – usually clear pyrex bowls where I put all of my ingredients before I start to cook. I have some heirloom cast iron that I use for certain recipes, like making a roux for gumbo. I'm a self–taught cook, so I have cooked in humble sparse kitchens and fancy high end kitchens. A good cook should be able to cook in any kitchen using what is available.
What do you eat for breakfast?
Most week days, I'm having a banana-strawberry smoothie, using coconut milk and adding a protein powder, fiber and flax oil and a cup of green jasmine tea. But on the weekends, if I'm in Key West, I ride my bike to Sandy's for a café con leche to go – then to Croissant d'France for an Almond Croissant and peddle down to the public beach at Fort Zachary Taylor park and sit on a bench watching the beautiful turquoise water. I savor every bite and sip and give great thanks for the fact that I am living my dream. Lastly, on any given Sunday, I'm making an "egg breakfast" for my husband and me. It's poached eggs on wheat toast, turkey bacon or chicken sausage, grilled tomatoes, and a cup of fresh berries.
If you had to, would you give up cheese or chocolate for the rest of your life?
Well, it's interesting that as one ages, it becomes apparent that there are some foods that support the body better than others – LOL! I love cheese and I love chocolate but then, I LOVE all food. I've had to employ my "save up" program of eating because I don't ever want to have to give up entirely the foods that I love and the foods of my culture and childhood. That's hard for me because I don't have that moderation chip in my brain. So I go in cycles. Sometimes I am watching what I eat and saving up for when I want to indulge and other times I'm full blast eat anything I want. What I have learned is to be present when I eat. Savor every bite. Have compassion for myself if I overeat. And get back on track when I can.
What's your cocktail of choice?
As a gal who has enjoyed life, I like to say that I used up all of my drink tickets early and don't partake in alcoholic beverages these days. But there is a drink on my menu called "Lucy's Favorite" and it is a margarita using high quality, high octane ingredients with just a little bit of squeezed fresh lime and it was my drink of choice back in the days! My other favorite cocktail is hands down, a salty dog using a high end vodka and fresh squeezed grapefruit juice. These days, I'm all in to the trend of Mocktails, which are cocktails without the alcohol. One that the bartenders with make for me at times is a Basiltini that uses grapefruit juice, basil and lime, shaken together and served as a martini. My other fave is the Mocktail Mule – version of the Moscow Mule that features ginger beer and lime, served in a chilled metal glass. All of them are delicious and refreshing.
If I was to make you a birthday dessert, what would you request?
CAKE! I love cake. Not mousse cake or volcano cake. I like old fashioned layer cake. I would either have a strawberry shortcake cake – white cake with whipped cream and strawberries in between the layers and on the top. Or a yellow cake with old fashions stirred caramel frosting.