Last week, One Hope Wine asked me to develop a recipe in honor of National Wine Day – it's today! One Hope donates money from sales of their wine and gifts to social causes and to date, has given more than $1.8 million dollars! That's something I can raise a glass to.
Rather than a cocktail or savory dish, I decided to bake something with wine in the recipe. It felt like a fun challenge to develop a tasty dessert recipe. Using white sangria as inspiration, I made these White Sangria Cupcakes.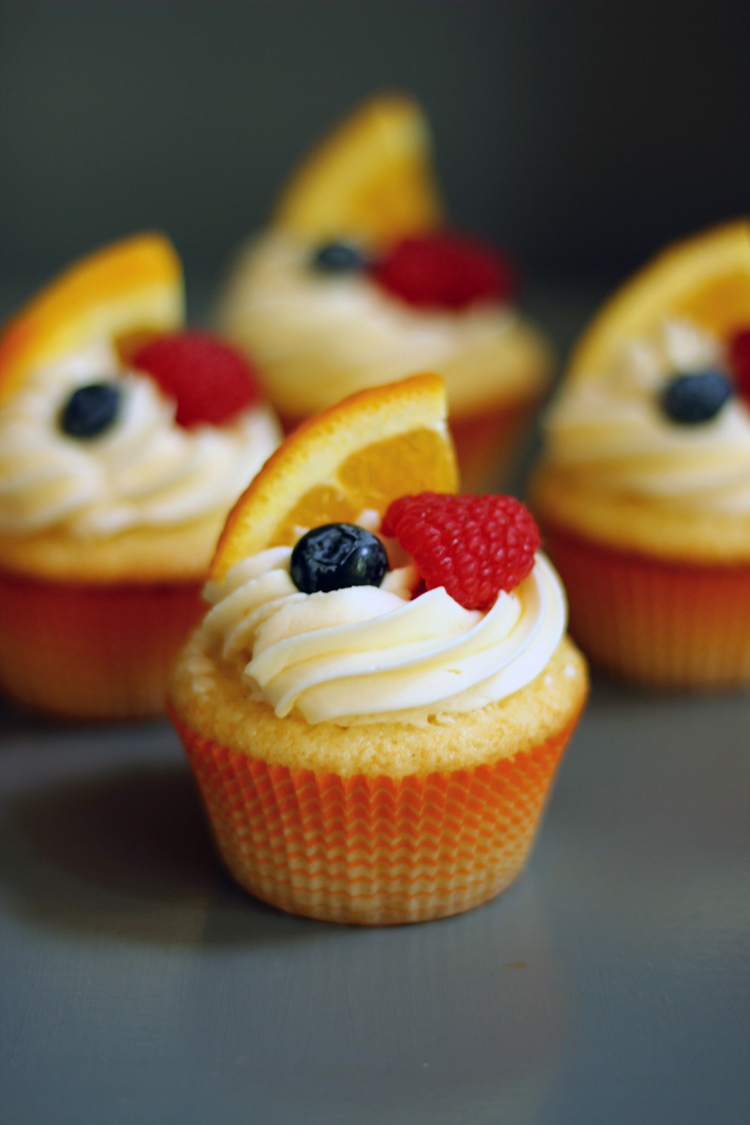 Last summer, I settled on a favorite white sangria recipe that I served many times in my backyard. It combines a fruity, crisp white wine with Cointreau (orange liqueur) and a splash of ginger ale. I change which fruits that I soak in the summery punch, always trying to achieve as much color as possible. Not only do I prefer the brighter taste of white sangria, the color lends itself better to showcasing the rainbow of fruit marinating inside.
Often, people make wine cakes using boxed cake mixes. I am not entirely a purist as I have a few recipes using mixes that I enjoy. But, when time allows, I love baking from scratch. I developed this recipe recently, inspired by my white sangria recipe. They aren't too boozy – just a slight aroma of the wine that can be reinforced by brushing each baked cupcake with a little extra white wine before frosting if you like.
Have fun with the garnishes on top. Consider these White Sangria Cupcakes your canvas to showcase colorful fruit. They would be perfect for a brunch gathering, served with a pitcher of white sangria, of course!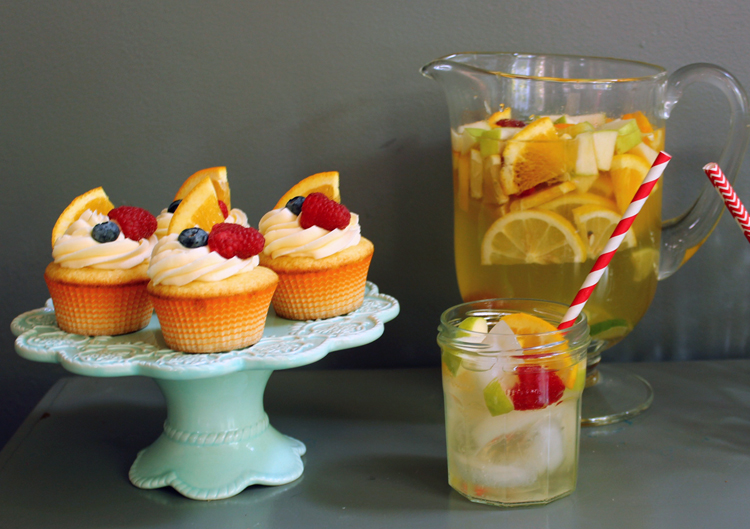 White Sangria Cupcakes
Makes 24 cupcakes
For the Cupcakes:
4 eggs
2 cups sugar
1 cup canola oil
1 cup Sauvignon Blanc white wine
1 ½ teaspoons pure vanilla extract
1 tablespoon finely grated fresh orange zest
2 ½ cups cake flour
2 ½ teaspoons baking powder
½ teaspoon salt
For the Frosting:
½ cup white wine
1 tablespoon Cointreau
2 tablespoons sugar
1 cup (2 sticks) unsalted butter
2 cups powdered sugar
For Garnish:
Orange wedges
Raspberries
Blueberries
(or other fruit of your choice)
For the Cupcakes:
Preheat oven to 350 degrees. In a mixing bowl, combine eggs and sugar. Using a whisk, mix by hand until combined. Add the oil, wine, vanilla and orange and whisk until incorporated.
In a separate bowl, combine the cake flour, baking powder and salt. Mix to combine. Add the dry ingredients to the wet ingredients, stirring until combined. Do not use an electric mixer or over mix.
Line muffin cups with paper liners or grease thoroughly. Fill each muffin cup ¾ full with batter. Bake in the oven for 18 minutes, or until a toothpick comes out clean. Remove from the oven and cool before frosting.
For the Frosting:
For the frosting, combine the white wine, Cointreau and sugar in a saucepan. Simmer,, stirring occasionally, for 20-30 minutes until it has reduced by half. Turn off heat and let cool completely.
In a mixer, beat the butter until light and fluffy. Add sifted powdered sugar, ½ cup at a time, mixing to incorporate. Add the cooled white wine reduction 1 Tablespoon at a time, using approximately 3-4 tablespoons to reach idea consistency for frosting.
Assembly:
If you would like the cupcakes more "boozy" use a toothpick and make 8-10 holes in the top of each cake and using a pastry brush , brush each of the cupcakes with white wine before frosting.
Using a piping bag and the tip of your choice, pipe frosting into the center of each cupcake. Cut orange slices in quarters and put a wedge in each cupcake. Top with a raspberry and a blueberry.