My extended family had a serious debate last weekend. In the end, we agreed that there is no more alluring aroma than that of cookies baking. Almost any cookie in the oven emits a heavenly scent. But this batch, presumably due to the addition of butterscotch chips, was elevated to a new transcendental level.
My daughter and I made a double batch to feed our houseguests and made an important discovery. We left the dough in the refrigerator overnight and the cookies we baked the second day were even better than the initial batch. I never considered that the flavors of cookie dough have the potential to mingle, cure and get better over time like soups and stews. Eureka!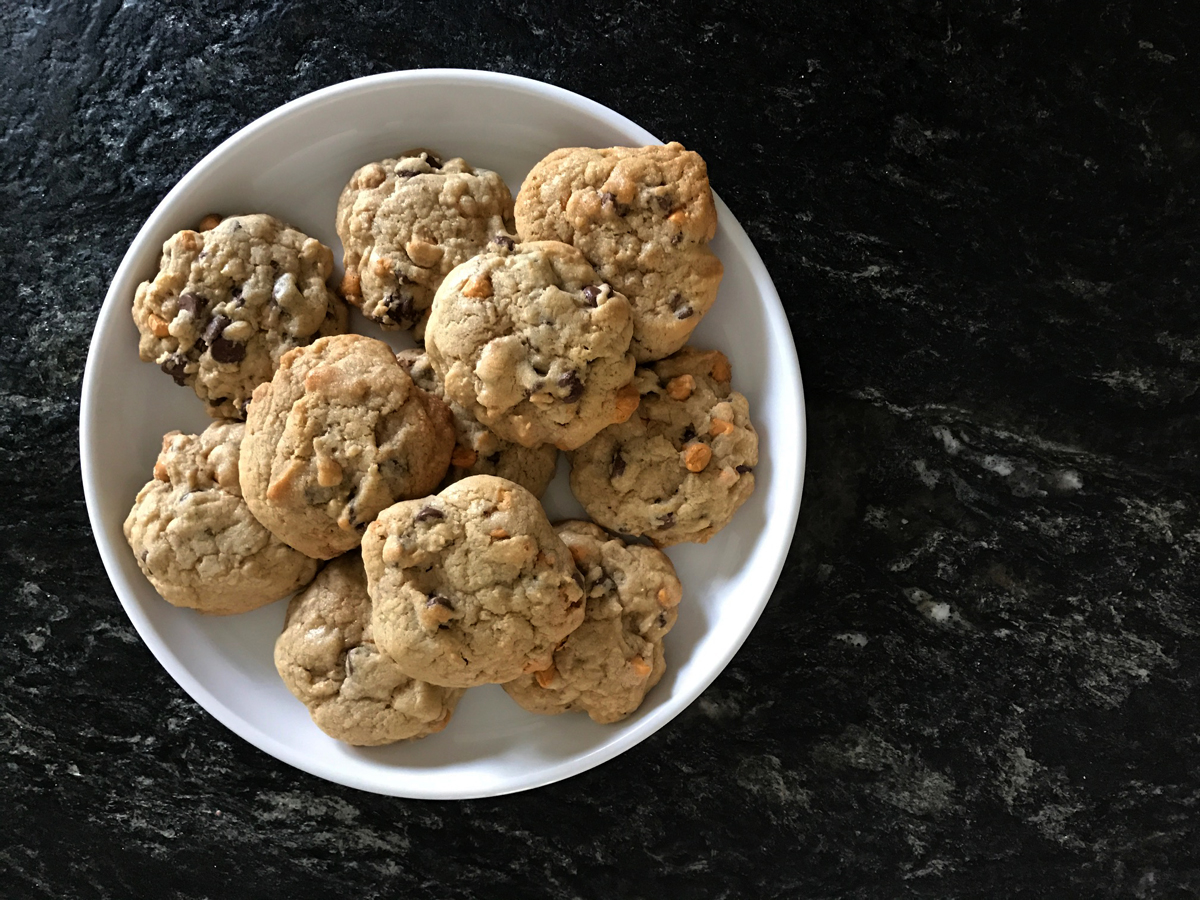 These cookies have a thick, soft center and a crunchy outer edge. The thickness is ideal for suspending loads of flavorful chips. The sweet butterscotch chips are nice balanced with semi-sweet dark chocolate chips. If you are a white chocolate lover, try those! My friend Stephanie, who put me onto this type of cookies, combines peanut butter and chocolate chips.
In the past, I have used a regular spoon to scoop dough and I preferred 1 1/2 inch, smallish cookies. But, you can't be shy with these! Use a 1/4 cup of dough per cookie to achieve the crunchy edge and soft, thick center.
Oh, how I wish you could smell these freshly baked cookies…. lean in, inhale and use your imagination. Vanilla, brown sugar, chocolate….. are you salivating?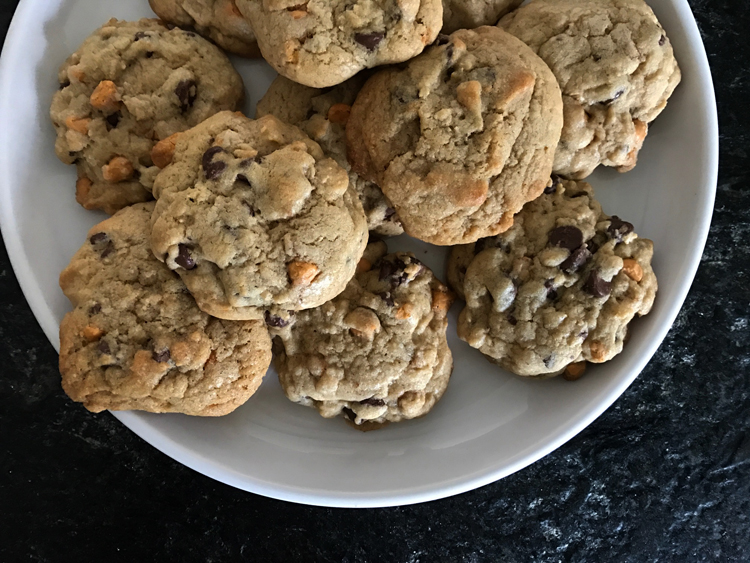 For these cookies, I bought the butterscotch chips I found at the grocery store. However, the color was a bit unappetizing. Next time, I would like to try these chips from Guittard OR if I am really feeling ambitious, I could make my own homemade healthy butterscotch chips.
Butterscotch & Chocolate Chip Cookies
Makes 2-3 dozen cookies
2 3/4 cups flour
1/4 teaspoon baking soda
1 teaspoon salt
1 cup butter, softened
3/4 cup brown sugar
3/4 cup granulated sugar
1 teaspoon vanilla extract
2 large eggs
1 cup semi-sweet chocolate chips
1 cup butterscotch chocolate chips
Preheat oven to 375 degrees.
In a bowl, combine flour, baking soda and salt. Stir to combined. In a separate bowl, combined sugar and both sugars. Mix until light and fluffy (a few minutes.) Add vanilla and eggs and beat until combined. Stir in chips by hand until well distributed.
If possible, refrigerate the dough for a day! When ready to bake, scoop 1/4 cup of dough onto ungreased baking sheets with plenty of space (6 cookies per sheet). Baking for 13 – 15 minutes or until edges and bottom are lightly brown and center is still soft.
Let cookies rest on the baking sheet for 2-3 minutes before removing to cooking rack. Eat them warm! Save them in an airtight container for up to 3-4 days (though they will likely not last that long!)