The Odysseo show by Cavalia in Chicago ignited child-like dreams of running off to join the circus.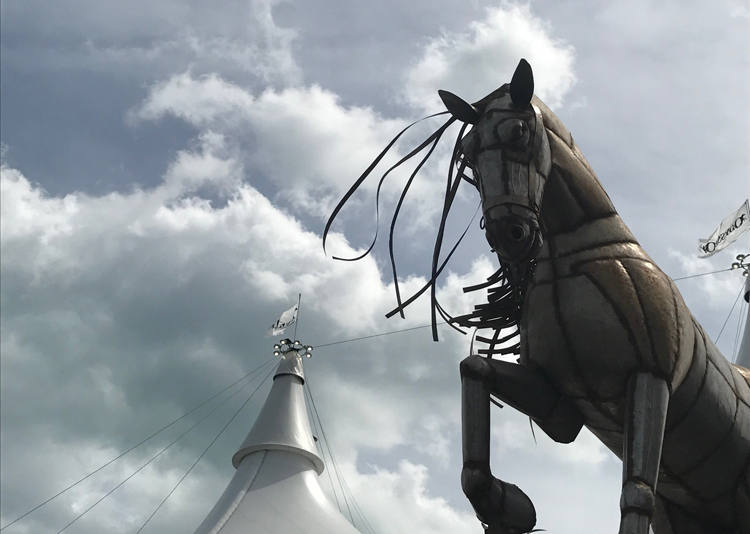 Almost a week after seeing the show, I still feel a quickening of my pulse  and a stirring of my spirit as I reminisce about experiencing Odysseo. The spellbinding show, which marries acrobatics, stage arts and equestrian arts has recently extended their stay in Chicago through May and I highly recommend you buy a ticket if you live in the area.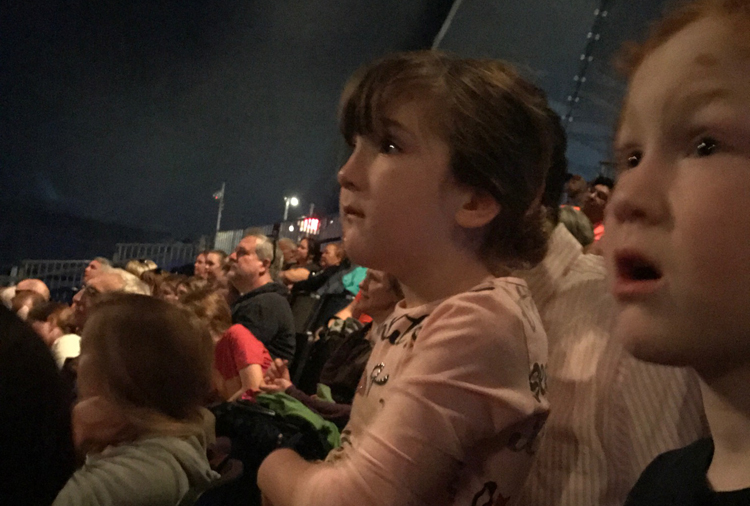 Every time I glanced over at my daughters, they were frozen in awe. Throughout the show, acrobats, musicians, riders and horses wowed us time after time, our enchantment escalating with each number. The acts are extremely varied and each impressive in their own unique way. The African troupe had us on the edge of our seats buoyed by their contagious energy.
During the trick riding, we clutched each others' hands with sweaty palms. While acrobats swung from the ceiling using their strength with utter grace, we held our breath in awe. So many shows attempt to trump other shows through shock or greater feats of danger. The astounding accomplishment of Odysseo is that it manages to impress but it doesn't do so with shock value.
Odysseo's acrobatic and riding acts are better because each has holistic meaning. The seamless connection of music, scenery, lighting, costumes, humans and horses come together to create a masterpiece. If you look closely and disect the pieces of the whole, you will marvel at how much creativity, engineering and hard work came together to create a show that is so easy to watch, and love.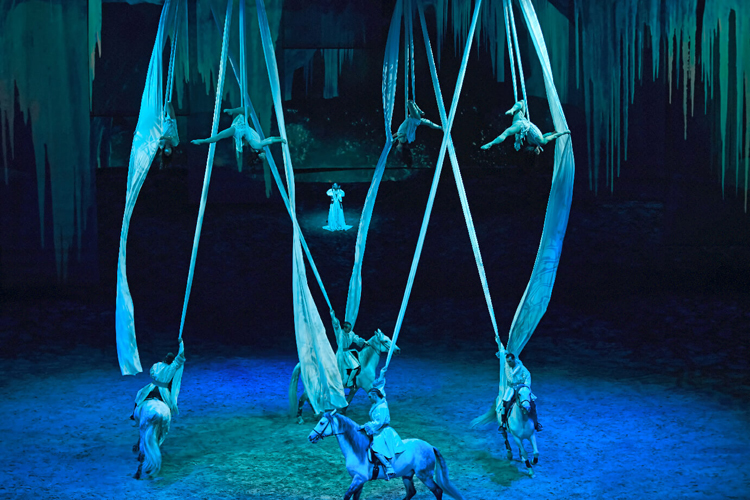 Mini Whipped and Baby Whipped were eager take part in our family review of the show. Baby Whipped (now 6 years old) filmed this video offering further insight about the show. Please excuse my error in saying the show name wrong in the video! (I have the Odysseo and the Cavalia turned around.) Keep an eye out for a little cameo from our furry friend peeking out the door. And, if you wait until the very end, you'll hear what a strong director Baby Whipped is :)
If you are convinced, go HERE and buy yourself a few tickets. If you want to know more, or before you go to the show, you can watch some of these videos.
We would like to say THANK YOU to Normand Latourelle and his incredible team for putting their talents into the creation of Odysseo. Our family will forever remember the show. We have been touched and inspired by your creativity, determination and hard work.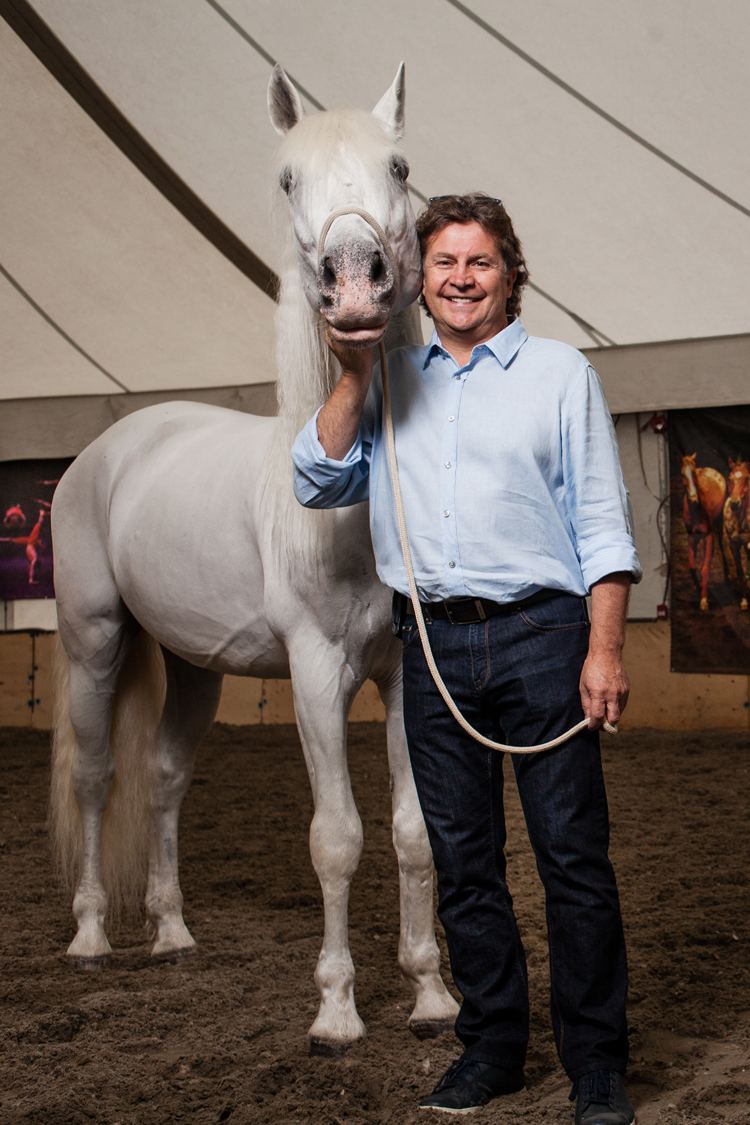 FUN FACTS ABOUT ODYSSEO
• Odysseo features 65 horses of 11 different breeds including the Appaloosa, Arabian, Quarter Horse, Canadian Horse, Canadian Warmblood, Holsteiner, Lusitano, Paint Horse, Percheron Hanoverian Cross, Selle Français and Spanish Purebred (P.R.E.).
• The horses are from Spain, Portugal, France, Germany, Australia, the United States and Canada.
• There are 48 artists – riders, acrobats, aerialists, dancers and musicians.
• The artists are from around the world including the United States, Canada, Brazil,
France, Guinea (Africa), Poland, Russia, Spain, Ukraine and Italy.
• There are 350 costumes and 100 pairs of shoes and boots in the show. Artists may have up to seven different costumes.
• An artist may have no more than 30 seconds to do a quick costume change between numbers.
• A team of 13 dressmakers, one property master, one designer and one shoemaker worked in the Odysseo studios to create the costumes.
• Materials used in the costumes include linen, silk, cotton, leather and some imitation fur. The use of natural fibers gives the clothes sheen and lets them fall in a way that synthetic fibers simply cannot match.
• The costumes are adapted to the artists' needs, especially those of the acrobats and riders, to facilitate their onstage movement while not compromising their appearance.
• The on-tour costume department consists of one wardrobe person and three dressers who launders, mends and cares for the costumes. At times during the show, they juggle 15 simultaneous wardrobe changes. They have two sewing machines, one shoe-repair machine and one overlock machine.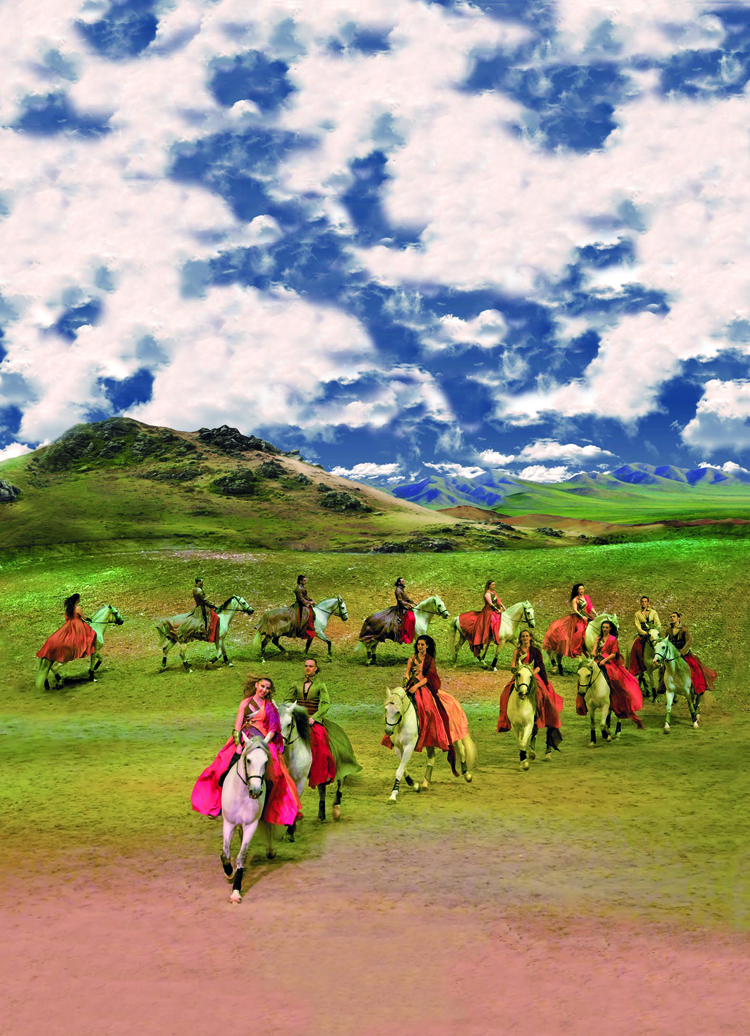 FOR THE LEFT BRAIN FOLKS, A FEW AMAZING FACTS ABOUT THE TENT
• There are 3 arches that support the White Big Top. Each arch consists of 8 sections that are 8 feet wide by 29 feet long. Once assembled, each arch is 88 feet high by 203 feet long.
• The masts of the big top have been specially engineered to be able to lift the arches into place.
• The canvas is held in place by 1,310 three-foot long stakes holding down the 250 anchor plates
• 26 motors are needed to raise the canvas onto the structure, resulting in the White Big Top.
• The length of all the steel cable used to attach the structure to the ground is equal to 3.6 miles.